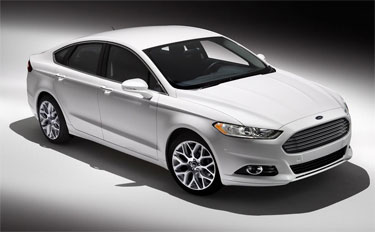 Ford hybrid
FORD IS THE second-largest producer of hybrids in the United States — running a distant second to the infamous Toyota Prius family — but the Japanese marque shouldn't be resting on its laurels, as Henry Ford's company is gearing up to smash its previous hybrid yearly sales record, seven months ahead of schedule.
Ford's last record-breaking year was 2010, when they sold 35,496 hybrids. Taking April's strong sales into account, 2013's total currently sits at 29,561, just 6,000 shy of the record. If current sales maintain their pace, Ford expects to break its record sometime in May.
Toyota currently holds 58 percent of the hybrid market, but Ford increased its share to 18 percent in April with strong sales of the Fusion and C-Max hybrids. This comes as Prius sales have stalled, with lower gasoline prices driving consumers out of Toyota showrooms — though the Prius's bland image and stale looks can't be helping matters. If Toyota can't reverse the decline, we could be seeing a change at the top of the hybrid heap in the future.
IN AN ENCOURAGING sign for America's three biggest automakers, April has been another solid month of increasing sales. GM, Chrysler and Ford are all posting double-digit sales gains, and the overall market has swelled from its position this time last year, with projected sales of 1.3 million — an 11 percent increase compared with April 2012.
Crossovers, light-trucks and large pickups remain the most sought after vehicles, the latter two buoyed by gains in the housing and construction markets, with all three expected to increase overall sales this year to around 15.4 million autos, an increase of almost 1 million over last year.
GM sales rose 11 percent last month, with Cadillac up 34 percent, and Chevy and Buick swelling by 11 percent each. Ford increased its sales by 18 percent through April, with Lincoln increasing its volume by 21 percent. Chrysler has enjoyed strong growth thanks to its Ram trucks, and the company can now mark 37 months of solid, consecutive gains on its calendar.
In keeping with self-made stereotypes, Americans continue to flock to pick-ups, with new models and old favorites continuing to perform well — the Chevrolet Silverado increased sales by 28 percent, and Ram selling over 31,000 trucks in April. Redesigns are proving popular too — Ford is recognizing increased demand for its latest Escape and Fusion models, and Dodge's brand new Dart helping to buoy its sales, with a 65 percent increase in demand for the Durango not hurting either.
For more, visit MetroWeekly.com/gears.