For the 14th consecutive year, ExxonMobil shareholders voted overwhelmingly today to reject a resolution that would have protected LGBT people from workplace discrimination.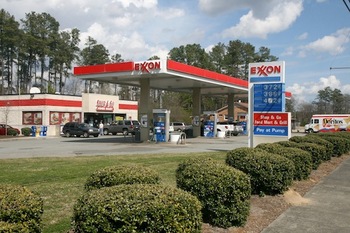 During their annual meeting in Dallas, shareholders voted 81 percent to 19 percent to reject the resolution introduced for the fourth year in a row by New York State Comptroller Thomas P. DiNapoli, according to the Dallas Voice. A year ago, shareholders rejected DiNapoli's resolution by an 80 percent to 20 percent vote.
"No company has proven itself a worse corporate citizen by betraying its LGBT employees time and again than ExxonMobil," said Human Rights Campaign President Chad Griffin in a statement. "By failing once more to do the right thing, ExxonMobil places itself firmly on the wrong side of history. Fair-minded consumers should take their business elsewhere."
ExxonMobil is one of the government's top 100 contractors. In 2012, more than $505 million taxpayer dollars in federal contracts were awarded to the company. According to the Human Rights Campaign's 2013 Corporate Equality Index, ExxonMobil earned a score of -25. Of all Fortune 500 companies, 88 percent have a nondiscrimination policy for sexual orientation and 57 percent have one for gender identity. Of the top 20 Fortune-ranked companies, which includes ExxonMobil, 13 received scores of 100 percent.
In previous years, the company has sought to have the issue removed from shareholders' ballots, but the Securities and Exchange Commission has rejected those attempts. The company insists the resolution is unnecessary, despite the lack of explicit LGBT workplace protections in writing.
Today's vote shifts focus back to President Barack Obama as he continues to face pressure to sign an executive order prohibiting federal contractors from discrimination on the basis of sexual orientation or gender identity. Although Obama promised to sign such an executive order as a candidate for president in 2008, he has backpedalled on that promise, largely arguing through White House press secretary Jay Carney that he would prefer to see passage of a comprehensive Employment Non-Discrimination Act (ENDA).
Supporters of ENDA, however, have insisted the president must act. "Anytime there is discrimination that is affecting the opportunity of citizens, it's wrong. And wrongs should be righted," Sen. Jeff Merkley (D-Ore.), the lead sponsor of ENDA in the Senate, recently told Metro Weekly.
White House spokesman Shin Inouye declined to address the vote by ExxonMobil shareholders today, instead repeating to Metro Weekly, "Regarding a hypothetical Executive Order on LGBT non-discrimination for federal contractors, I have no updates for you on that issue."
As long as shareholders continue to vote down the resolution with such resounding numbers and the federal government awards millions of dollars worth of federal contracts to the company, a focus will remain on the president himself.
"Now is the time for President Obama to act decisively and make clear that doing business with the American government and the American taxpayer means adhering to the American people's sense of fairness," said Freedom to Work President Tico Almeida in a statement. Last week, Freedom to Work filed a legal complaint in Illinois alleging ExxonMobil engaged in LGBT discrimination during its hiring process.
"President Obama can and should sign an executive order today that bars federal contracts for companies that don't prohibit discrimination against LGBT Americans. He made this a written campaign promise five years ago, and there are no good excuses for delaying fairness any longer," added Almeida.
[Photo: Exxon gas station (Courtesy of Ildar Sagdejev/Wikimedia Commons)]