While you should be working, it's Friday. And hasn't the working class been toiling hard enough the past few years? All that is but our favorite lazy guy, Homer Simpson! You can, however, turn the tables and instruct Homer to get busy. It's quite likely someone you know has already been doing it for months, having downloaded EA Mobile's free The Simpsons: Tapped Out. The premise is simple: Negligent Homer has accidentally blown up Springfield. It's your job to guide him – and ever more Simpsons characters who join him – in rebuilding a replacement town. While the backstory setup mocks the worlds of CityVille and FarmVille and every other game that demands the repeated harvesting and maintenance of a virtual landscape for no other reward than passing time, that's exactly what Tapped Out offers.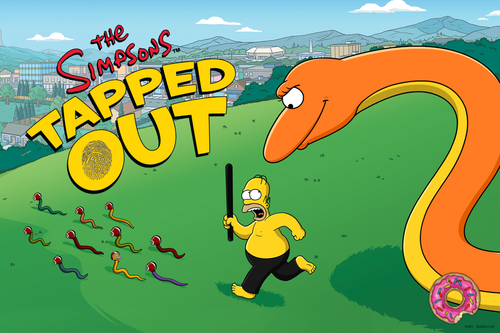 Get whacking with Homer!
The game, available in iOS and Android formats, kills time beautifully. You may find yourself stunned by the artistic detail the EA folks have whipped up. From the curtain ruffling in the breeze to Groundskeeper Willie's downright sexy six-pack abs, it's a beautiful little game for your phone or pad. Just don't get suckered into forking over actual real-world money for the game's most valuable currency: donuts.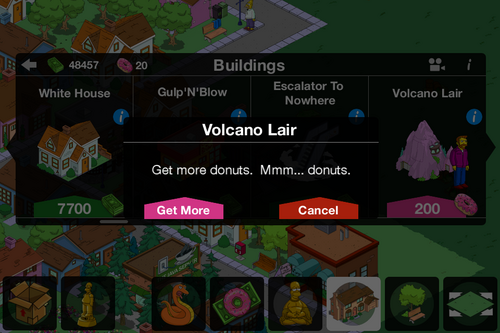 That Volcano Lair would look so cool, but who's got 200 donuts??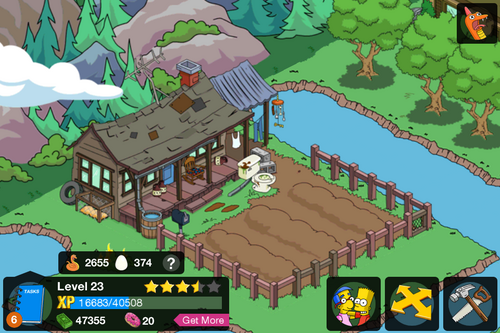 Enchanting detail, right down to Cletus's wind chimes
An added bonus to Tapped Out are teasers about upcoming episodes of The Simpsons. At the moment, however, players are taking a nostalgic trip back to 1993. That's when "Whacking Day," Episode 20, Season 4, premiered. Fast-forward two decades to the present, and current gameplay has added hordes of snakes to Springfield. Get whacking for bonus prizes!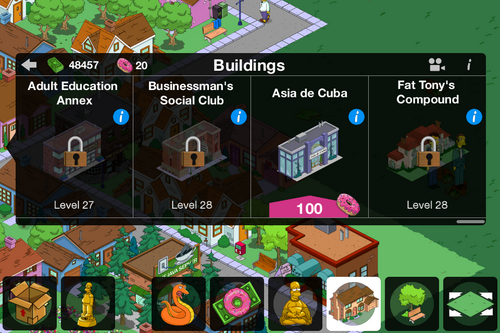 Asia de Cuba? That's downright Capital City eatin'!
The only seeming hiccup to the game is the cumbersome protocols for adding friends, whose Springfields you may visit for collecting the little nuggets of time-wasting rewards. All in all, though, a dandy way to while away your Friday while ignoring the warning alarms on your nuclear-plant panels.