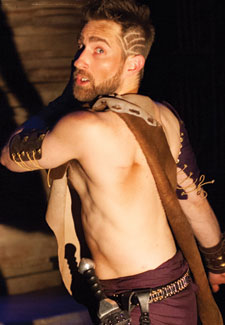 Gilgamesh
Right now, there's a work of art gracing the stage at the Source on 14th Street. And I don't mean Gilgamesh, the fantastical show created around Yusef Komunyakaa's flowery prose poetry. Well, not the script or the story of Gilgamesh anyway. Based on an ancient written epic from Mesopotamia, Komunyakaa's work is too fanciful and over-the-top to fully draw you in or even really understand. You may find yourself asking what's the point? There's no clear answer, even with a bit of resolution at show's end.
But the visual spectacle that Constellation Theatre Company has created is, as ever, a sight for sore eyes. Among Constellation's feats this time out are eye-popping, resplendent costumes by Kendra Rai and imaginative choreography and movement of actors — who even personify wild creatures and interpret waves in the rough seas — by choreographer Emma Crane Jaster working with fight director Casey Kaleba and puppet designer Matthew McGee. Tom Teasley's live percussion-based new age music further enhances the show — it's mostly incidental or accentual.
Joel David Santner plays the title character, a half-god, half-human hybrid, who is a tyrannical king until he finally learns the right balance to managing his split-personality. Santner is a sharp actor, and notable for his skill alone; he has the dramatic charisma to carry the show.
Gilgamesh


To June 2
Source
202-204-7760
www.constellationtheatre.org
But he also spends more than half of Gilgamesh wearing nothing but a sarong-like wrap — and then at one point, during a scene in which he's stripped naked, he ends up wearing nothing but a flesh-colored loincloth. You'll likely wish he had just done away with it and bared all. Because Santner's body is a work of art: the ideal sculpted male form, with the perfect amount of grooming of facial and chest scruff.
Santner, it should be noted, is not the only stunning cast member — male or female — in Constellation's strong ensemble. Even if the story of Gilgamesh is a bust, you're sure to leave stimulated by the adventure anyway.