"Just watching people try and play kickball in drag is hilarious," Karl Muller says. "The dresses are flying, the wigs are going, and everything."
This Sunday, June 2, you can see exactly what Muller means at the Stonewall Kickball league's third annual Drag Ball at Stead Field. Two teams of 20 people each, both professional drag queens from Freddie's Beach Bar and amateurs from the league, will compete for fun and fundraising. A benefit for The DC Center and Capital Pride, last year's Drag Ball drew 650 attendees and raised just shy of a whopping $12,000, raised mostly in advance by Stonewall Kickball teams.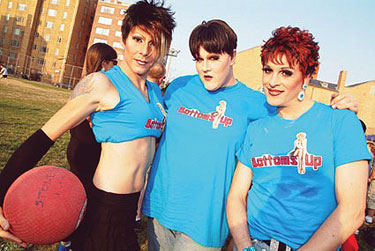 Drag Kickball
(Photo by Ward Morrison)
Muller, who leads the event with Bryan Rippeon, says inspiration for the event originally came from the popular Rehoboth Beach Drag Volleyball, held over Labor Day every year. "It started off small and it just keeps getting bigger and bigger," Muller says. This year's event introduces a halftime show, during which roughly 20 league members will compete in tug-of-war and pizza-eating contests, wearing nothing but swimsuits. It culminates in "a dress up in drag and run around the bases" moment. Drag queen Destiny B. Childs serves as emcee. TeamDC, One In Ten and Capital Pride have organized a Day In The Park after the Drag Ball, while Cobalt will host the ball's after-party.
Muller, who will be too focused on making sure everything goes off without a hitch to wear drag, says the day calls for sensible shoes. Even most of the professionals opt to wear flats.
"The first year I did it I actually wore a pair of heels," Muller says, laughing at the memory: "Trying to get from one end of the field to the other was really hard." '
The 3rd Annual Drag Ball is Sunday, June 2, at 3 p.m. at Stead Park, 1625 P St. NW. Suggested donation is $5. Visit facebook.com/DragKickball for more information.