Michael Komo came to activism early in life. More than half of his 24 years have been spent advocating for LGBT equality and he describes that activism as the most rewarding aspect of his life.
Originally from Erie, Pa., Komo was about 10 years old when a television show changed his life.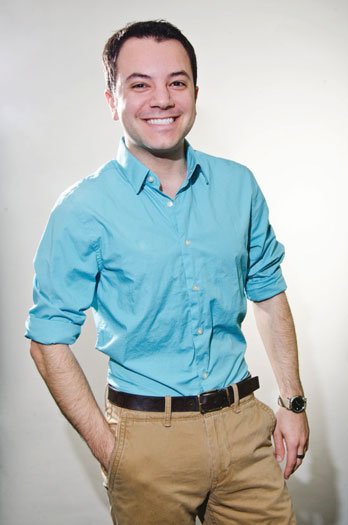 Michael Komo
(Photo by Julian Vankim)
"I know this sounds cheesy, but when Will & Grace premiered in 1998, that was the first time I had ever seen an openly gay character on TV or in a movie and I said, 'That's me,"' Komo remembers.
Komo was not, however, at a point to come out in the conservative town of his childhood. Instead, he came out as an ally in middle school and helped establish a Day of Silence to draw attention to anti-LGBT bullying.
"I was still targeted and harassed," he shares. "My last name doesn't really help — 'Komo the homo."'
The annual Day of Silence continues to be held at Komo's middle school, and the commitment to equality Komo made at age 11 followed him through high school and college. Helping to establish a Gay-Straight Alliance at his high school to work with faculty and students, Komo became the first person to come out in a class of 560 students.
"I told my family I couldn't keep living a life that wasn't me," he says. "And now 50 people out of my class have come out since I graduated."
The middle child with two sisters and divorced parents, Komo's family supported his coming out, although it was a harder experience with his father, who died in February.
"I think it was toughest for him. It was challenging, but I think he eventually came around," Komo says, adding that his father questioned if his son's involvement in theater may have influenced his sexual orientation. "No, Dad, you have it backwards. I'm in theater because I'm gay," Komo told him.
Komo came to D.C. in 2007, attracted by all the nation's capital has to offer in politics and advocacy. As a freshman at the George Washington University, Komo immediately got to work making the university more inclusive.
"As a freshman at G.W. I wanted to meet with the administration and tell them all my goals," Komo says. "I met with the administration — the dean of students, the provost, everyone sitting at the discussion table. I guess they thought it was kind of odd. 'Oh, who's this freshman? Who does he think he is?' So, I'm explaining why the LGBT community needs a nondiscrimination policy so we can be compliant with the D.C. Human Rights Act, because it's the right thing to do. At the end of it one of the administrators looks at me and says, 'What about these BLT people?'
"I didn't know if he was talking about gay people or a mysterious race of sandwich people. I'm still trying to figure it out. That just blew my mind that that would happen in 2007 at G.W. in D.C. That really reminded me of Erie, because the only BLTs in Erie were sandwiches; we didn't have visible BLT people."
Komo says it was that kind of apathy that made G.W. LGBT friendly, but not necessarily LGBT positive.
"So I really set specific goals every year, like establishing an LGBT resource center. I thought that would open up the discussion for students, staff and faculty to all work together toward LGBT equality," he says.
While earning his undergraduate degree in political science and a master's degree in legislative affairs, Komo also played an integral role in G.W. adopting a nondiscrimination policy, gender-neutral housing and the establishment of an LGBT studies minor. In the meantime, he served as president of Allied in Pride at G.W. and interned for Hillary Clinton's presidential campaign, the National Gay and Lesbian Chamber of Commerce, and the Gay and Lesbian Victory Fund.
During an internship with the office of Sen. Bob Casey (D-Pa.), Komo witnessed firsthand the passage of the first piece of federal LGBT legislation, the Matthew Shepard and James Byrd, Jr. Hate Crimes Prevention Act. "To be in the Senate for the first federal piece of LGBT legislation was really amazing. It was one of the best moments of my life," Komo says, describing the bill's passage as a watershed moment that opened the door for passage of the repeal of "Don't Ask, Don't Tell," and what he believes should be the movement's No. 1 priority — the Employment Non-Discrimination Act.
Komo will enter his second year of law school at G.W. this fall and plans to spend this summer interning with Lambda Legal in Los Angeles. After receiving his third – and final, he promises – degree in 2015, he envisions "a career advocating for LGBT people, women, people of color and other historically underrepresented groups."
"My end goal in life is to be the first openly gay Senate majority leader," Komo says, adding that should the Senate's first out member, Tammy Baldwin (D-Wis.), beat him to it, "that would be a good problem to have in life."