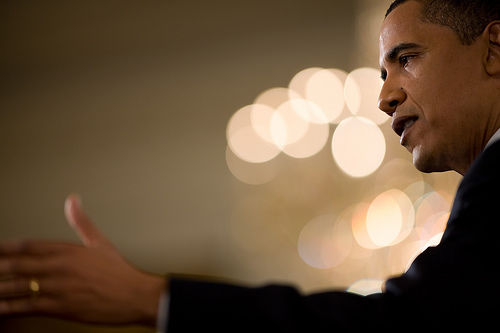 With the clock ticking, President Barack Obama urged Illinois lawmakers to approve marriage-equality legislation during a fundraiser in Chicago Wednesday night, stating he is "absolutely convinced it is the right thing to do."
"The work that we did together to end 'don't ask, don't tell' is something that I could not be prouder of. But we also know that there's still a lot of people who are excluded in our society and we've got more work to do," Obama said during the second of two fundraisers he attended Wednesday to raise money for the Democratic Congressional Campaign Committee (DCCC).
"Here in Illinois, we've got a vote on same-sex marriage that's going to be coming up in the state Legislature," Obama continued. "And I just want to say for the record it's something that I deeply support."
The president's remarks come as the Illinois House of Representatives has until Friday to call a vote on the same-sex marriage bill approved by the state Senate on Valentine's Day. Supporters of the bill have said it will pass, and Gov. Pat Quinn (D), who has promised to sign it into law, has called on the House to vote. Illinois would become the 13th state to legalize same-sex marriage and the fourth to do so this month.
The fundraiser was held at the Streeterville home of Bettylu and Paul Saltzman and was attended by an estimated 70 people, according to the DCCC. Tickets ranged from $10,000 per person to $32,400 per couple. Obama made no mention of marriage equality during his first fundraiser of the night, held at the Hilton Chicago and attended by an estimated 150 people, with tickets priced from $1,000 per person to $5,000 per couple.
Although Obama has expressed his support for the marriage-equality legislation in Illinois before, this marks the first time he has openly discussed the Illinois bill. In December, White House spokesman Shin Inouye told the Chicago Sun-Times if Obama were still serving in the Illinois Senate, he would vote in favor of the bill.
"I wrestled with this for a long time and I am absolutely convinced it is the right thing to do," Obama said at last night's fundraiser. "And we have to make sure that wherever we go, we are reminding people that the essence of America is that everybody is treated equally under the law without exception."
First lady Michelle Obama was fundraising yesterday as well, and headlined the DNC's LGBT gala in New York City.
"And because of you, yes, we have a president who stands up for our most fundamental rights, from ending 'Don't ask, Don't Tell' to strengthening hate crimes to supporting our right to marry the person we love," she told donors, who paid between $1,250 per person and $32,400 per couple.
In attendance at the gala was NBA player Jason Collins, who became the first out male athlete playing in any of the four major American sports leagues last month after announcing in Sports Illustrated that he is gay. Collins received an outpouring of support after his announcement, including from the first lady herself, who tweeted, "So proud of you, Jason Collins! This is a huge step forward for our country. We've got your back!"
She reiterated that support last night, saying of Collins, "We are proud of your talent, your character, your courage, and we are so proud. I mean, that's why I had to tweet him. I wanted to send my love out to him right away, to tell them that he made history and he has just made the difference in the lives of so many of our young people."
[Photo: Barack Obama (Official White House photo by Pete Souza)]