With the past couple centuries of North American "settlement" moving east to west, it's no wonder that the great Pacific Northwest might seem somewhat untamed, relative to much of the continent. It's also no wonder that residents, particularly the transplants, continue to be awed by the natural beauty.
"I tell my Midwest relatives that every day I've lived in the Northwest, I've seen something too pretty to be real," says former Chicagoan Tim Joyce, who lives in Seattle with his partner and works as a meteorologist and reporter for Seattle's Q13 Fox affiliate and as chief meteorologist at Portland, Ore.'s CW station.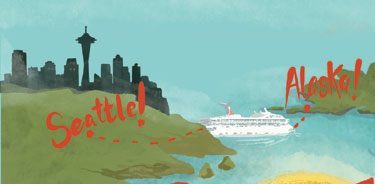 The beauty might be a waterfall, a field of tulips or a mountaintop. Or it might be a cityscape in one of the area's three major metropolises: Portland, Seattle and Vancouver.
Timothy Christian, a Seattle-based flight attendant who also claims Midwest roots, shares Joyce's wonderment with his new home.
"I love it. It's unlike any other place I've ever lived, and I've lived all around the country," says Christian. "I don't know how many car accidents I've almost gotten into because of gawking at scenery."
Jewel Robinson, who started out in New York City, has called Portland home for two decades, despite not being much of a wilderness woman. This self-described "black butch," real-estate broker and actor – perhaps you caught her playing the concerned school principal during Season 1 of Grimm – would rather take to the streets by bike and check out the inhabitants of "the People's Republic of Portland."
"Summer is my favorite time of year," Robinson says. "I will not miss the Adult Soapbox Derby. Thousands of people come out. It's an all-day event every August. I'm there with my lawn chair and cooler. And Portland Zoo concerts – I just won't miss 'em. I love that the weather is perfect for 90 days – July, August and September. It doesn't get any more perfect."
Weather-expert Joyce does offer summer visitors a bit of advice, however.
"Maybe it's an occupational hazard, but my top recommendation would be to dress accordingly," Joyce says. "We joke here that summer doesn't start until July 5, but we're not really kidding. Visitors should be prepared to dress in layers, as it gets chilly at night. And jeans are acceptable in even the nicest restaurants."
While Christian will attest to the convenience of flying between this triad of cities, a slower option with amazing views is Amtrak's Cascades route. Check schedules carefully, however, as the train is substituted with bus service along the Seattle-Vancouver portion at times.