"The theme is Peter's theme, the lineup is Peter's lineup. The production is Peter's production. It's pretty much Peter," says Nima Nasseri, referring to Peter Rauhofer and the Work party planned over New York Pride weekend. "People should come out to experience the last thing that he was pretty much focused on."
Rauhofer died earlier this month of brain cancer, a death that robbed the music industry — and especially gay clublife — of one of its leading lights. Certainly in his adopted hometown of New York the Austrian-born Rauhofer had become king of beats. After years as the Saturday night DJ at the mega-club Roxy, he went on to start his own regular Work parties at big-room venues around town. Five years ago he launched his own annual Pride party at the cavernous Roseland Ballroom.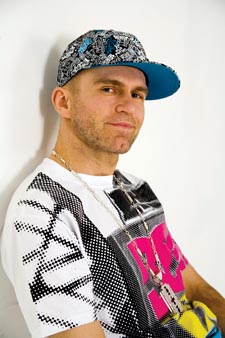 Peter Rauhofer
(Photo by Aaron Cobbett)
"I just want to make it as impressive as possible," Rauhofer told Metro Weekly before that first Pride event in 2009. "I know people could be satisfied with two DJs or one performance, but I love to go all out."
Before he died, Rauhofer had already tapped DJs Chus & Ceballos, Isaac Escalante, and Eddie Martinez to spin at his 2013 Pride party at Roseland, with the theme "Ultimate Champions." "Of course it was supposed to be him playing along with them," says Nasseri, Rauhofer's assistant and manager of his label, Star 69 Records. Since his death, unannounced special guests and a "very big special guest DJ" have also signed on to pay tribute to Rauhofer at the Work party, set for Saturday, June 29. Nasseri wouldn't reveal any names, only offering: "He's been around for a lot of years and knew a lot of people."
Door proceeds from the party will benefit the cancer-awareness charity Fuck Cancer. "It just seems like something Peter would have supported," Nasseri says. "Every decision is like: Would Peter fuck with this? If Peter would have fucked with this, then yes, do it. Ultimately I think Peter would definitely be down with something called Fuck Cancer."
Nasseri, who says Star 69 remains an ongoing entity with new releases in the pipeline, hopes the Pride party at Roseland also lives on beyond this year. "It's become like a Pride institution," he says. "I think Work's legacy should definitely live on for Pride. That's what Peter lived for…that's what he put everything into."
The Work tribute to Peter Rauhofer takes place Saturday, June 29, from 10 p.m. to 9 a.m. New York's Roseland Ballroom, 239 W. 52nd St. Tickets are $60. Visit wantickets.com/nycpride.