In just a few days, Chris Obermeyer's weeks of planning will come to fruition with Woodrow Wilson Senior High School becoming the first D.C. public high school to host its own version of Pride – in the school's atrium during lunch on Wednesday, June 5.
Obermeyer, a biology and environmental science teacher and co-coach of the school's ultimate Frisbee team, says he thought of the idea after attending Youth Pride in late April.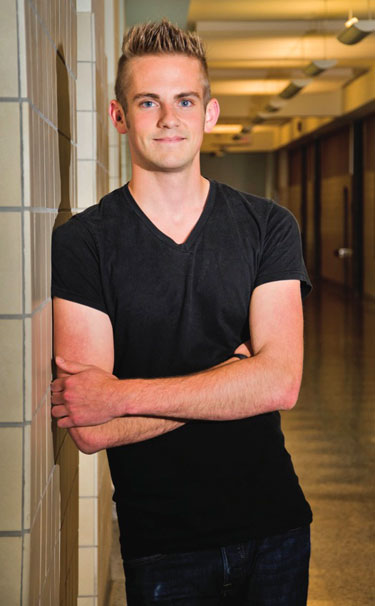 Chris Obermeyer
(Photo by Julian Vankim)
"I'd been to [the Gay-Straight Alliance student group] before here at Wilson, and at Youth Pride I saw a lot of faces I hadn't seen at GSA," he says. "There were kids I didn't even know were gay or questioning, and I asked some of them if they knew about GSA. I discovered there were a lot of segmented groups in our community of LGBTQ students here at Wilson who weren't connected."
Obermeyer, who remembers being bullied for his weight, height and sexual orientation as a child in Kentucky, says he wanted to put together an event that would engage students with activities and support systems that already exist, while also creating an event that would foster a sense of belonging among the school's LGBT students.
"I wanted a way of showing we are an open and affirming community here at Wilson," he says, noting that research has shown schools with active gay-straight alliances that foster an environment of respect bring down rates of harassment among all students. "Because it's during our lunch period, everyone is able to have access to it, and they don't have to go to some different place and out themselves."
As part of the Wilson Pride celebration, Obermeyer has enlisted the help of 15 organizations that work with the LGBT community, including Supporting and Mentoring Youth Advocates and Leaders (SMYAL), the Mayor's Office of GLBT Affairs, Casa Ruby, The DC Center and Whitman-Walker Health.
Wilson Pride will also feature poetry readings, and possibly a musical performance by members from the Gay Men's Chorus of Washington.
Obermeyer says he has served as a resource for LGBT or questioning students who have come to him for help and has taken part in anti-bullying workshops for freshmen students, largely due in part to his own decision to come out to his students to teach them about tolerance for LGBT people.
"Back in October … I got an email from a parent saying her son was being bullied for his perceived sexual orientation in my classroom," Obermeyer shares. "Thinking back to my own experiences being bullied or harassed for being gay, or because people thought I was gay, I was like, 'No, that can't happen in my classroom."'