Rhode Island Gov. Lincoln Chafee (I) signed into law this evening two bills that legalize same-sex civil marriages in the Ocean State, making it the 10th state to approve marriage equality.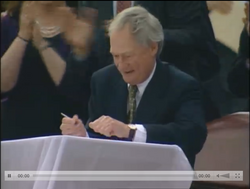 The measures passed the House of Representatives earlier in the afternoon, 56-15, sending two bills – H5015 and S38 – to Chafee for his signature. Thursday's vote marked the second time the House had voted on same-sex marriage, the first being in January when the original version of H5015, sponsored by Rep. Art Handy (D-Cranston), passed by a 51-19 margin.
The wider margin of today's vote was provided by the addition of two marriage-equality supporters, Rep. Donna Walsh (D-Charlestown) and Rep. Brian Patrick Kennedy (D-Hopkinton), both of whom were absent in January; and Rep. Deborah Fellela (D-Johnston) and Rep. Spencer Dickinson (D-South Kingstown), who both expressed opposition back in January but did not vote on the original measure.
In addition, two legislators who voted "no" in January — Rep. Raymond Johnston (D-Pawtucket) and Rep. Patricia Morgan (R-West Warwick) — switched their votes to "yes." Morgan's vote places her in a small, but growing, contingent of state Republicans supporting marriage equality, along with House Minority Leader Brian Newberry (R-North Smithfield) and all five Republican members of the state Senate.
Both marriage-equality measures had experienced some resistance in the Senate, where leadership, including Senate President M. Teresa Paiva-Weed (D-Newport) and Senate Majority Leader Dominick Ruggerio (D-North Providence), were opposed. But amended versions of both House and Senate bills – with additional religious protections extended to fraternal societies and other organizations that are not technically religious organizations, such as the Knights of Columbus – passed the upper chamber, 26-12, on April 24.
"I know you have been waiting for this day to come," Chafee told supporters who gathered to watch him sign the bills into law, noting that many advocates for same-sex marriage had passed away throughout the nearly two-decade struggle to grant gay and lesbian couples the same rights as their heterosexual counterparts. "But I am proud to say, now, at long last, you are free to marry the person you love."
In yesterday's issue of The New York Times Chafee penned a column in which he justified his support for same-sex nuptials, recalling that he was one of just four senators – and the only Republican, at the time – to announce his support for marriage equality in 2004 and again in 2006, when voting against a constitutional amendment to ban same-sex marriage as a member of the U.S. Senate.
"A historic realignment is happening all around us, as Americans from all walks of life realize that this is the right thing to do," Chafee wrote. "It is occurring both inside and outside of politics, through conversations at the office and over kitchen tables, and at different speeds in different parts of the country. But once the people have spoken, politics should do its part to make change efficient and constructive. … I personally feel that Rhode Island is a better state, and America is a better country, when we are as inclusive as possible."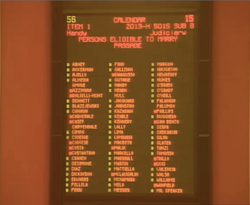 Speaker Gordon Fox (D-Providence) also spoke at the bill signing, thanking supporters, fellow legislators and citizens who championed and lobbied on behalf of the House and Senate bills. He also thanked Paiva-Weed for her leadership in choosing to step aside and allow senators to vote their conscience, despite her personal opposition to the measures, something he noted could be a political risk to her, particularly if she was perceived to have lost control of her caucus.
"When she stepped aside and kept her promise to let this vote take place…she was truly a supporter in this cause," Fox said of Paiva-Weed.
Responding to the news, the Human Rights Campaign (HRC), the nation's top LGBT-rights organization, issued a statement praising the passage of marriage equality in the Ocean State, which brings the number of Americans living in states with legal same-sex marriage to nearly 50 million.
"The unprecedented momentum for marriage across the country continues, with Rhode Island becoming the first state of 2013 to say yes to marriage equality," HRC President Chad Griffin said in a statement. "As the Supreme Court deliberates the fundamental right to marry the person you love, these historic and bipartisan victories keep mounting and prove the country is ready for marriage equality."
The national organization Freedom to Marry also issued a statement commemorating the law's passage.
"Today Rhode Island – and now all of New England – has embraced the freedom to marry and lived up to our American promise of liberty and justice for all," Marc Solomon, the national director for Freedom to Marry, said in a statement. "That the entire Rhode Island Senate GOP caucus joined with a vast majority of Democratic lawmakers to live up to the state's values in voting for marriage will inspire more momentum in more states. It is time now for the Supreme Court to uphold these American values for all loving and committed couples."
With Chafee's signature, same-sex couples will be able to obtain civil marriage licenses starting Aug. 1.
[Photo 1: Gov. Lincoln Chafee signs the marriage-equality bills into law (video feed courtesy of Capitol TV, R.I. General Assembly). Photo 2: Screenshot of the vote tally for the final House vote (video courtesy of Capitol TV, R.I. General Assembly).] ..