Friday, May 24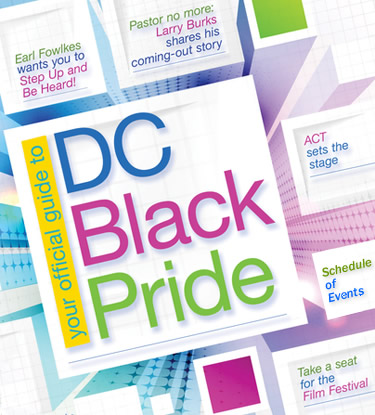 Washington, D.C., HIPAA Launch Event
"Information Is Powerful Medicine"
Whitman-Walker Health
Elizabeth Taylor Medical Center
1701 14th St. NW
10-11 a.m.
Hospitality Suite Open
Host Hotel
12-9 p.m.
Opening Reception and Community Awards Presentation
Host Hotel
Thornton Room, 11th Floor
6-8 p.m.
LGBTQ Prom by DC Concerned Providers
Ages 16 to 21 (Up to 24, with restrictions)
Metropolitan Community Church of Washington
474 Ridge St. NW
6-10 p.m.
Game Room Open
Host Hotel
8 p.m.-1 a.m.
Speed Dating by Rainbow Connects
Host Hotel
8:30-10:30 p.m.
Saturday, May 25
Community Town Hall Meeting
"Are We Prepared To Address Homophobia in the Black Church?"
Host Hotel
11 a.m.-12 p.m.
Workshops
Host Hotel
12-2 p.m.
DC Black Pride Film Festival
Host Hotel
Admission $20
1-8 p.m.
Post Happy Hour by Barefoot Bubbly Wines
Thurgood Marshall Center
1816 12th St. NW
5-8 p.m.
DC Black Pride Poetry Slam, hosted by ButtaflySoul
Host Hotel
Admission $10
7-9 p.m.
Game Room Open
Host Hotel
8 p.m.-1 a.m.
Sunday, May 26
Interfaith Service
Host Hotel
9-11 a.m.
Health & Wellness Festival
Francis-Stevens Educational Campus
2425 N St. NW
Noon to 6 p.m.
The Host Hotel for DC Black Pride is the Hyatt Regency Washington on Capitol Hill, located at 400 New Jersey Ave. NW.