Senate Judiciary Committee Chairman Patrick Leahy withdrew two amendments to immigration reform that would have provided protections for binational same-sex couples Tuesday evening.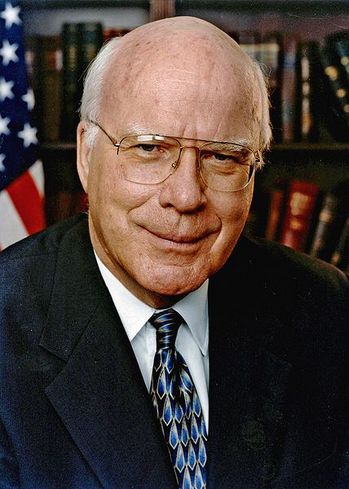 At the end of the committee's markup of the Senate's immigration reform bill, the Vermont Democrat announced he would withdraw his amendments "with a heavy heart" amid Republican threats to derail immigration reform if they were included in the bill by the committee.
"I don't want to be the senator who asks Americans to choose between the love of their life and the love of their country," Leahy said when the committee began to consider his amendment.
Leahy's decision comes after weeks of pressure from LGBT-rights advocates who have sought an LGBT-inclusive immigration reform bill.
Leahy's first amendment would add protections that mirror the language of the Uniting American Families Act (UAFA), which would recognize immigrants in relationships with Americans of the same sex and grant rights denied to immigrants in relationships with Americans of the same sex, including eligibility for green cards, due to the Defense of Marriage Act. His second amendment would provide equal protection to married binational same-sex couples.
Members of the committee said the issue should be addressed at another time. Democratic members also said the issue could be resolved by passage of UAFA or after the Supreme Court rules on DOMA in June.
Sen. Lindsey Graham (R-S.C.), a member of the "gang of eight" that drafted the bill, warned that "the bill would fall apart because the coalition would fall apart" if the amendment was adopted.
"It would be a bridge too far," Graham said if same-sex marriage made its way into the final bill.
Added Arizona Republican Sen. Jeff Flake, "It would certainly mean this bill would not move forward."
A number of Democrats, known as LGTB allies, voiced concerns that Leahy's amendments would cause the bipartisan coalition that helped draft the legislation to disintegrate as well.
"I would just implore to hold off on this amendment at this time," said Sen. Diane Feinstein (D-Calif.), stating it would "blow this bill apart."
Said Illinois Democratic Sen. Dick Durbin, "I believe that this is the wrong moment, this is the wrong bill."
Sens. Chuck Schumer (D-N.Y.) and Al Franken (D-Minn.) both expressed concerns as well, despite avowing their opposition to discrimination.
Describing this as the "most excruciatingly difficult decision" of his career and saying not to adopt the amendment would be "rank discrimination," Schumer said he could not support the amendment if it would bring down the bill.
"I will be here and ready to work with you, LGBT community, at each turn after this one to advance the cause of legal equality," Schumer said. "This is far from our last battle together."
The bill is expected to be considered by the Senate in June, where Leahy's amendments, if considered, will face another uphill battle by the full body.
[Photo: Patrick Leahy (Courtesy of U.S. Senate)]