In a second act scene in Show Boat, the character Magnolia auditions to be a singer at Chicago's popular Trocadero Club. Magnolia was a star on the Cotton Blossom, but of course a Mississippi riverboat celebrity is in a different league from a big city nightclub act — just as a musical is a different animal from an opera.
Or is it?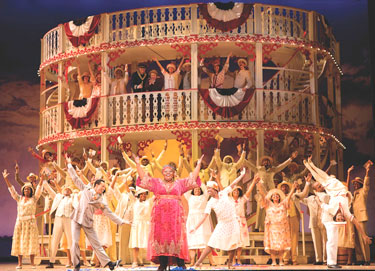 Angela Renee Simpson and the company of "Show Boat"
(Photo by Scott Suchman)
You'd be forgiven for thinking otherwise in the Washington National Opera's production of the show now docked at the Kennedy Center. The company's Show Boat — a co-production with opera companies in Chicago, Houston and San Francisco — muddies most of the distinctions. Oh, sure, as with any opera there's prolific use of vibrato and coloratura, and no vocal amplification, with lyrics projected above the stage to aid in comprehension — or in this case to help the hard of hearing; Show Boat is naturally performed in English. But as in musicals the performers dance and talk — and talk some more, far more than the typical opera — as well as sing. The show also incorporates popular musical styles in a way that would make an opera purist frown — who no doubt would grow still more frustrated seeing and hearing so many of his fellow opera patrons oohing and ahhing and even clapping vigorously throughout the production, as if on a common cruise ship.
But unless you're that rigid and fussy, you'll no doubt find plenty to enjoy in the way WNO's Show Boat treads the waters dividing these two forms of musical theater. And ultimately, any connoisseur of musical theater should see this production. When else will you get a chance to see 100 performers onstage — four or even five times the usual musical cast? Aided by conductor John DeMain leading an 80-piece orchestra — three or four times bigger than the typical pit orchestra — the music really pops in the Kennedy Center Opera House. That sheer power will give you chills, especially in the Show Boat songs that have become American Songbook standards, especially "Ol' Man River" and "Can't Help Lovin' Dat Man."
In so many other ways Francesca Zambello has directed her creative team — and it should be noted that most of them are veterans of both opera and Broadway — to make this a particularly showy Show Boat. Among the highlights are Peter J. Davison's elaborate, sliding sets; Paul Tazewell's extravagant costumes in various styles and covering several decades' worth of turn-of-the-20th century fashions; and choreographer Michele Lynch's wide range of dance styles covering the same timeframe — some of the early ones naturally corny.
Show Boat, of course, is the theater piece that pioneered the musical art form. Previous Broadway shows incorporating music were frilly, frothy song-and-dance shows lacking in drama and substance. By contrast, composer Jerome Kern and writer/lyricist Oscar Hammerstein II fashioned Show Boat, based on Edna Ferber's novel of the same name, to deal with weighty issues, everything from racism to interracial marriage to marital struggles and divorce. Captain Andy Hawks runs the popular riverboat cruise ship the Cotton Blossom, offering white passengers an entertaining escape from their humdrum daily life, while black workers do back-breaking work tending to their leisurely needs. The leading lady of the boat is Julie LaVerne, until it's revealed that LaVerne is half black. And because she's married to a white man — a case of miscegenation that goes against the laws at the time — LaVerne is quickly kicked off the boat. While LaVerne becomes a sad sack character by Act 2, pushed aside by Hawks's white daughter Magnolia, you can't overlook the injustice done to LaVerne simply because of her race.
Show Boat




To May 26
Kennedy Center
$25 to $270
202-467-4600
www.kennedy-center.org
Talise Trevigne did a wonderful job performing as LaVerne on the night I saw the show, sharply conveying her character's devastation in the heartbreaking ballad "Bill." But this is opera, where two performers often play one lead role on alternate dates, to help preserve vocal power — and Alyson Cambridge plays LaVerne more often than Trevigne. No doubt you can't go wrong with either, and I'm guessing that's true for most of the alternating leads in the cast. If you can, however, plan to catch a performance starring Angela Renee Simpson as Queenie and Morris Robinson as Joe, do. As strong as their substitutes surely must be, it's guaranteed that Simpson and Robinson will captivate you as this boat's powerhouses.
In particular, Robinson's stunning rumbling bass voice ensures the spiritual-inspired but thoroughly operatic ballad "Ol' Man River," which he sings at several turns throughout the show, is — every time — the unforgettable and chill-inducing showstopper it was intended to be.