A decade ago, when Texas-based filmmaker Yen Tan regularly commuted between Dallas and Houston, he wondered if he was alone out there.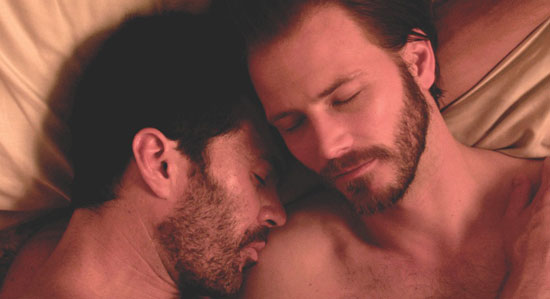 Pit Stop: Marcud DeAnd and Bill Heck
"I would stop at gas stations and wonder if there were gay people living in these small towns between the cities," Tan says. His latest film, Pit Stop, reflects what he uncovered. The evocative film tells the fictional story of two gay men struggling to move on from past relationships, each wondering if there's hope for love again. Played by Bill Heck and Marcus DeAnda, the two men live on opposite sides of the same small town. They only meet during the course of the film for a hookup.
"Pit Stop is something I wanted to make for a long time," says Tan. "It's probably the longest I've ever worked on a film, in writing and developing it." This weekend Pit Stop, which debuted at the Sundance Film Festival earlier this year, will screen at the Maryland Film Festival. Next comes the gay and lesbian film festival circuit, where Tan's previous films, including 2002's Happy Birthday and 2008's Ciao, have been well received.
Set as it is in a quieter, more rural part of the country, Pit Stop is also quieter and more stoic than what we're used to seeing. The film's two leads both sport beards, but they're decidedly not bears or trying to be trendy.
"When I was doing research about gay men who live in small towns, that's always one of the things I noticed," Tan says, chuckling at being asked about facial scruff. "I was trying to not make it seem like it was a trend thing. I was going back and forth on it — should they be clean-shaven, or have beards? And then I thought, well, I have to go by what I observed." '
Pit Stop screens Friday, May 10, at 8:30 p.m., and Sunday, May 12, at 5:30 p.m. at the Charles Theater, 1711 N. Charles St., Baltimore. Tickets are $10. Call 410-752-8083 or visit md-filmfest.com.