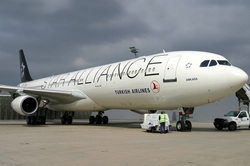 Turkish Airlines is sponsoring Passport DC's Around the World Embassy Tour this Saturday, May 4, 2013. Presented by Cultural Tourism DC, Passport DC is a month-long celebration highlighting more than 100 international programs and events throughout our nation's capital.
As part of this Saturday's event, more than 40 embassies, representing six continents, will open their doors to the public to experience food, art, dance and music from around the world.
A Turkish coffee truck piloted by uniformed Turkish Airlines staff will be stationed outside of the Turkish embassy at 2525 Massachusetts Avenue throughout the day serving free Turkish Coffee. As part of the sponsorship, Turkish Airlines is also donating two round-trip, economy tickets to Istanbul as well as two round-trip tickets to any of the more than 222 destinations that they service around the world.
"The annual Passport DC event celebrates cultural tourism and educates people in the district about different cultures from around the world," says Turkish Airlines' Washington, D.C. General Manager, Handan Corekci. "At Turkish Airlines, we are physically connecting these people to hundreds of destinations so that they can experience these cultures firsthand. On top of that, we are serving up some Turkish hospitality to those attending Passport DC in the form of rich Turkish coffee."
In the United States, Turkish Airlines flies out of Washington, D.C., New York, Los Angeles, Chicago, and its newest gateway in Houston, Texas. Travelers flying to Istanbul out of Dulles International Airport can take advantage of a special deal starting at $525 for a round-trip ticket purchased before May 26, 2013. More information on this deal can be found here.