There are two challenges to Shakespeare's The Winter's Tale. The first is protagonist King Leontes's near-instantaneous and murderous conviction that his pregnant queen Hermione is having an affair with his childhood friend Polixenes, and the second is bringing cohesion to a plot that diverts from tragedy to comedy and back again. Though director Rebecca Taichman approaches these hurdles with a certain boldness and imagination, neither is wholly surmounted.
Take Leontes's jealousy. Unlike Othello, where Shakespeare gradually builds his unhappy husband's plausible, if deranged, urge to destroy, here there is virtually no time between the seemingly happy cocktail hour in which Leontes, Hermione and Polixenes enjoy each other's company and the onset of Leontes's rage, confrontation and punishment.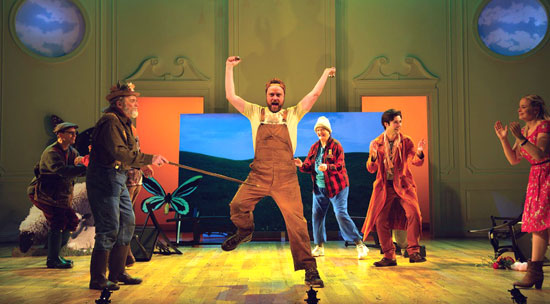 The Winter's Tale
(Photo by Charles Erikson)
Making this convincing is no easy feat and Taichman's answer is to encourage and/or allow Mark Harelik to play his Leontes to the hilt and beyond. And although this goes some way toward explaining the extremes of his jealous rage – he is a man unhinged and it was going to be this or something else that set him off – it's an approach that becomes more distracting than absorbing. And as accomplished as Harelik may be, in this context, the exaggerated presentation provides too little space for the language and its meaning.
And even if Harelik's intensity – and a certain bold charisma – provide continuity, it is not enough to overcome the challenge of the play's structure. Without dwelling too much on the plot, suffice to say that Leontes ends up imprisoning his wife, trying her for adultery and then believes her dead of grief after their son Mamillius dies. Although Leontes finally, if briefly, sees the error of his ways, it is not before he has ordered that the queen's newborn baby (which he believes is Polixenes's) be abandoned in the wilds.
Then, with brief preamble, it is 16 years later and Shakespeare changes tack and mood with a longish interlude in the world of the Old Shepherd and his son, Young Shepherd, who have raised the abandoned Perdita (a name found with her) in Bohemia, where Polixenes happens to be king. Coming and going without much rhyme or reason is the grifter Autolycus, who entertains the shepherds and sells them his wares when he is not tricking them out of their money.
It is soon revealed that Perdita is being wooed by Polixenes's son Florizel and the father is less than happy with the match. When Polixenes intervenes in the marriage of Perdita and Florizel, matters escalate until Perdita is revealed to be Leontes's long-lost daughter. Once more at Leontes's palace, all are reconciled, the marriage is blessed and the queen, who has been mysteriously sequestered for the past 16 years, returns.
It is a lot of transition and Taichman's take is to make realism, or lack thereof, a kind of comment on the action. Giving Leontes's palace a somber mix of the austere and contemporary, it is lit to hyper-reality, whereas the transition moment when the shepherds find the baby – effectively the bridge between Leontes's world of tragedy and the lighthearted world of the shepherds – is dreamlike. Once fully in the shepherd's world, the pretense of realism gives way to tongue-in-cheek symbolism and some freely adapted lite and witty fare. When events finally return to Leontes's palace, all is somber again, save for a kind of residual magic hovering over the queen's return. While these choices are conceptually thoughtful and clearly rendered, the shifts in realism distract more than complement, and ultimately the play is left neither fish nor fowl.
With most sharing roles in both worlds, the cast largely rises to the occasion. As Queen Hermione, Hannah Yelland's sculpted arms threaten to steal her opening scene, but when she returns later as an imprisoned mother torn from her children and her former life she is deeply affecting and delivers some of the only genuine pathos. Her pained, near-mute, final appearance also meaningfully and intriguingly speaks to the unresolved questions of this play: Is she really alive? Where has she been? Can she ever really forgive Leontes?
THE WINTER'S TALE



To June 23
$48-$100
Shakespeare Theatre Company
Landsburgh Theatre
450 7th St. NW
202-547-1122
www.shakespearetheatre.org
Providing solid support are Nancy Robinette as the voice of reason, Paulina (and a Drunken Shepherdess), and Sean Arbuckle who gives his Polixenes an unsettled quirkiness (at least until he becomes an outraged father). Bringing much color, humor and poignancy, as well as his usual gorgeous vocal subtlety, Ted van Griethuysen's servant Antigonus and Old Shepherd are understated treasures. Proving himself nicely versatile, Tom Story offers quiet intensity in his courtier Cleomenes and a superb sensibility, timing and tongue-in-cheek flair in his Young Shepherd that proves a necessary antidote to Harelik's overplayed Autolycus. The youngest here, Heather Wood as Mamillius and Perdita, and Todd Bartels as Dion and Florizel, acquit themselves well. Brent Carver brings a quiet and affecting resonance to his faithful servant Camillo. Finally, mention must be made of musician Stephen Feigenbaum for his amusingly rueful countenance and gently evocative accordion playing.
For the Shakespeare-loving stalwart, this may offer an interesting and original attempt to interpret the challenges of a less-than-easy choice. But for everyone else, there's an awful lot of sound and fury for only a few great moments.