The Nance is the gayest play currently running on Broadway — among other attributes, it features a gay writer (Douglas Carter Beane), a gay lead actor (Nathan Lane) and gay content, focused as it is on a gay burlesque star in the 1930s. The critically heralded show also snagged five Tony nominations, including one for Lane's performance.
But alas, The Nance didn't get a nod for Tony's top honor: Best Play. The following is a roundup of the shows that did get nominated in Broadway's four top categories — well, those that you can still actually see on the Great White Way. Sorry about that Bring It On: The Musical and Who's Afraid of Virginia Woolf?, two shows that have already shuttered. Also omitted: Orphans, which snagged a Best Play Revival but closes this Sunday, May 19. Blink and you'll miss it.
All shows included here are running until at least June 16, one week after the 67th Annual Tony Awards are announced during a live CBS broadcast set for Sunday, June 9, starting at 8 p.m.
For more information and to get tickets for these and other shows, visit broadway.com.
Kinky Boots
BEST PLAY
THE ASSEMBLED PARTIES
Richard Greenberg's latest is a drama about a family holiday gathering gone awry — and Judith Light, a Tony winner last year for her superb work in Other Desert Cities, also about a family holiday gathering gone awry, is nominated again.
LUCKY GUY
The final show from Nora Ephron (Sleepless in Seattle) focuses on a gutsy, prize-winning newspaper columnist, played by Tom Hanks in his Tony-nominated Broadway debut. The sentimental favorite to win, it's also the popular favorite, based on box-office success.
VANYA AND SONIA AND MASHA AND SPIKE
Christopher Durang's new dark comedy was inspired by the work of Russian playwright Anton Chekhov and focuses on a pampered but unhappy family. David Hyde Pierce is one of four Tony-nominated actors in the show, which also stars Sigourney Weaver.
BEST MUSICAL
KINKY BOOTS
Chances are this won't sweep the Tonys, even with its 13 nods. But never underestimate the power of a popular, feel-good show with rousing pop music — or the power of a beloved drag queen. And drag queens are mainstream now, aren't they?
MATILDA
A drag queen even factors into this critically acclaimed — and 12-times-nominated — British import, based on the children's novel by Roald Dahl. Dennis Kelly and Tim Minchin's musical focuses on a precocious child and a wicked headmistress, a not-so-beloved man in drag.
BEST REVIVAL OF A PLAY
THE TRIP TO BOUNTIFUL
A couple years after Bethesda's Round House Theatre proved it could be done, an all-black, all-star revival of Horton Foote's play about the power of escape is a bona fide hit on Broadway, earning four nominations.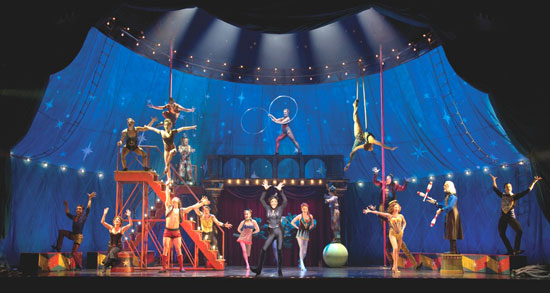 Pippin
BEST REVIVAL OF A MUSICAL
ANNIE
Jane Lynch is now mean Miss Hannigan for the next month, which should console these hard-knock lifers — and boost the box office — after failing to score any nominations other than this one, even though reviews were decent.
PIPPIN
Director Diane Paulus got mostly good reviews — and 11 Tony nods — for her work in reimagining this 40-year-old musical about a mysterious performance troupe weaving a tale of a pleasure-seeking prince as a magical circus act.
RODGERS + HAMMERSTEIN'S CINDERELLA
Prolific gay scribe Douglas Carter Beane garnered mixed-to-favorable reviews — and a Tony nomination, one of nine here — for his reimagining of the familiar old TV musical in what is, unbelievably, its Broadway debut.