Boy, do people really get hung up about getting hitched. It wasn't that long ago when gay people were effectively immune from a lot of the societal angst over marriage. Of course, the past decade's push for and progress on gaining legal recognition of same-sex marriage is all to the good. But settling down with one special person isn't the be all and end all it's often portrayed to be, and yes, it is possible to lead a happy and well-rounded life as a single person.
Stephen Sondheim was on to something when he wrote Company with book writer George Furth 43 years ago. The great musical, now in a production at Signature Theatre, is overstuffed with several of Sondheim's greatest tunes, from "You Could Drive a Person Crazy" to "The Ladies Who Lunch" to the moving show closer "Being Alive." But even today, in an age when we're arguably more critical of the status quo and established institutions than ever, it stands out for the way it goes against the grain of our media-propelled notions that we'll live happily ever after — if only we can find true love.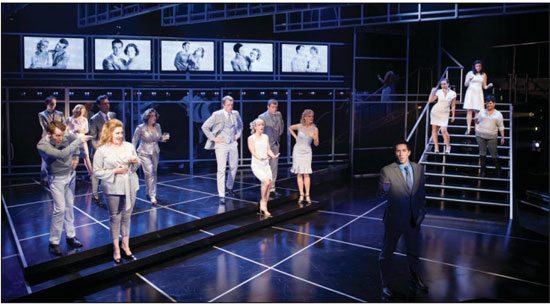 Company at Signature Theatre
To celebrate his 35th birthday, Bobby (a charming Matthew Scott) surrounds himself with married friends who are obsessed with his single status and suggest it's a defect in his character. It doesn't help that his few female friends-with-benefits aren't really potential life partners. Of course, it also doesn't help their case, all the faults we see in the bonds among the married folks. And then there's Amy (Erin Weaver), who gets cold feet on her wedding day. Weaver is a hilarious delight rifling through "Getting Married Today." Though she does end up going through with marriage to Paul (Paul Scanlan), you can't help but applaud her for at least considering the alternative instead of simply giving in to societal and family pressure. If only more people would think before they jump, we'd be a happier, more grounded people.
Signature's Eric Schaeffer tapped real-life married actor pairings — Sherri Edelen and Thomas Adrian Simpson, Tracy Lynn Olivera and Evan Casey, Erin Driscoll and James Gardiner — to portray three of the five couples in the show. It gives a boost to the show, adding subtle levels of natural comfort among the actors. They don't have to convince us that they could work together, but instead focus on the nuances of what does, and does not, make a marriage work.
Company



1/2
To June 30
Signature Theatre
4200 Campbell Ave.
Arlington
$40 to $87
703-820-9771
signature-theatre.org
Company seems pretty much a fail-safe musical, especially in Schaeffer's capable and Sondheim-expert hands. And you do get a slight sense that Schaeffer coasted with this production. At the very least, he decided to keep the focus on the actors and the story. Daniel Conway's set and Frank Labovitz's costumes are basic, even a bit bland. Jon Kalbfleisch is up to usual snuff as head of Signature's orchestra, but here he's only leading an eight-piece outfit. Even Matthew Gardiner, who last jazzed up Signature's MAX space directing and choreographing Dreamgirls, seems to hold back on his choreography. It's just not all that notable here.
What is notable is what's missing: Even passing mention or portrayal of a marriage between two men, or two women. Of course, same-sex marriage wasn't on anyone's radar, not even for a gay scribe like Sondheim, when Company was written. There is a scene late in the show in which the character of Peter (Bobby Smith), who still lives with his former wife (Sandy Bainum), kinda/sorta propositions Bobby, which is a bit hard to believe. After all, we've seen Bobby bed-hopping with women. Maybe he's just meant to be single. Not that there's anything wrong with that.