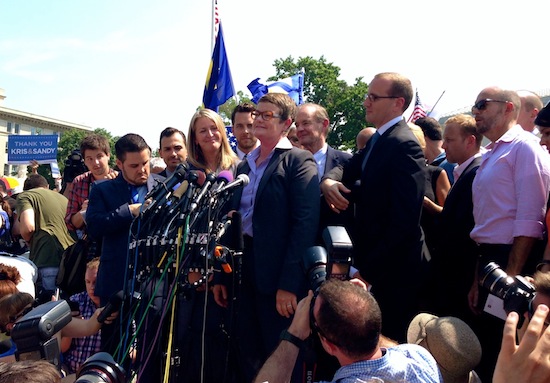 With one sentence, the the Ninth Circuit Court of Appeals opened the door for same-sex marriages to resume in California immediately, marking the return of marriage equality to California for the first time since November 2008.
"The stay in the above matter is dissolved effective immediately," three circuit judges wrote in an order released Friday afternoon, lifting the stay originally issued as the case made its way through the federal courts.
Although it was originally expected that it could take nearly a month for same-sex nuptials to resume in the state following the Supreme Court's decision earlier this week to dismiss the case on lack of standing, it now appears same-sex marriage will return to California immediately.
"After four and a half long and painful years, justice for committed gay and lesbian couples has finally been delivered. In California, a time of struggle and indignity are over, and love, justice and freedom begin anew," said Human Rights Campaign President Chad Griffin, who founded the American Foundation for Equal Rights which brought the Proposition 8 case, in a statement. "And now, no election, no judge – no one – can take this basic right away. At long last, marriage has finally returned to the most populous state in the nation."
California Attorney General Kamala Harris tweeted that she was on her way to San Francisco City Hall to marry one of the two couples at the center of the Proposition 8 case.
On my way to S.F. City Hall. Let the wedding bells ring! #Prop8

— Kamala Harris (@KamalaHarris) June 28, 2013
About to marry the #Prop8 plaintiffs Kristin Perry and Sandra Stier. Wedding bells are ringing!

— Kamala Harris (@KamalaHarris) June 28, 2013
In a photo tweeted by the American Foundation for Equal Rights, plaintiffs Kris Perry and Sandy Stier awaited Harris's arrival inside San Francisco City Hall.
Shortly after 4 p.m. PST, the American Foundation for Equal Rights announced that history had been made and Perry and Stier had been issued the state's first marriage license since same-sex nuptials resumed in California.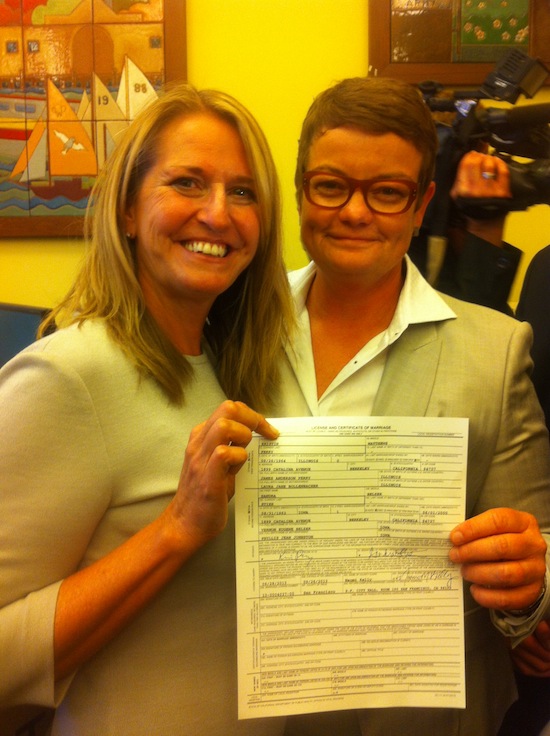 Perry and Stier then made their way to the Mayor's Balcony of City Hall, where Attorney General Harris pronounced the couple "spouses for life" while the cameras rolled.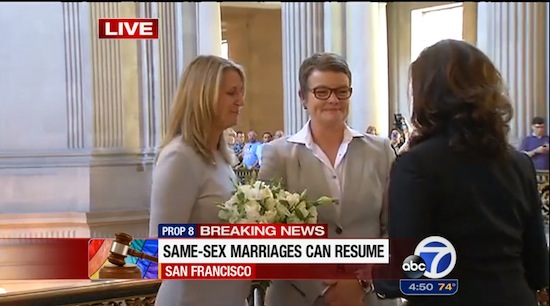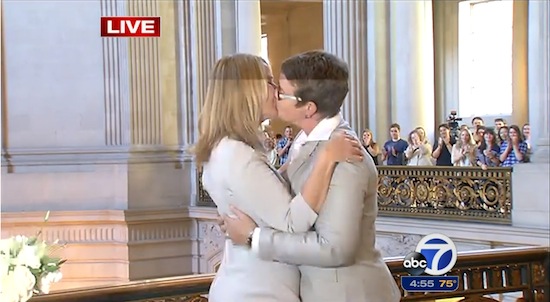 [Photo 1: The Proposition 8 plaintiffs outside the U.S. Supreme Court (Credit: Justin Snow/Metro Weekly). Photo 2, 3 courtesy of AFER.]