Earlier this week Chris Gerard created a strong list of what he called "10 Essential Pride Tracks," a grab bag of prideful anthems you should have in your collection.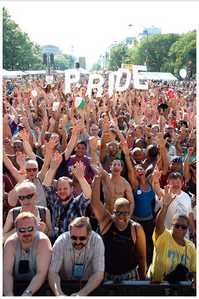 What you'll find here is a completely different kind of grab bag: Mostly up-to-the-minute pop or rock songs by artists who will be performing this Sunday, June 9, at the Capital Pride Festival. Think of it as a playlist from the would-be Capital Pride Radio. As with tuning into any radio station at any given moment, you'll hear a lot of songs you know and love; at least a few tunes new-to-you that you'll want to hear again; and then songs you'd just as soon forget. But hey, at least no annoying commercials. (Unless you don't pay for Spotify, of course.)
The larger point is to give you some familiarity with this year's crop of Pride performers — plus one associated artist, Charli XCX, the woman who wrote Icona Pop's "I Love It," which I've inserted here once just because, blogger's prerogative. (The playlist is also a little heavy on Emeli Sandé, because she's had the strongest, most prolific output of the bunch.) Maybe the sampler will even help you identify who you want to be sure to catch, with a glance at the schedule, printed alongside this week's Metro Weekly cover feature.
And if you don't have time to listen to this on your own, just aim to stick with the Metro Weekly crew this weekend: This playlist is set to serenade Saturday's Metro Weekly parade contigent, as well as blast on repeat at Sunday's Metro Weekly festival booth.
I Love It feat. Charli XCX – Icona Pop
Want U Back – Cher Lloyd
Next to Me – Emeli Sandé
Take You Back – Jessica Betts
Red Hot Tears – Eric Himan
Really Don't Care – Demo Lovato featuring Cher Lloyd
Beneath Your Beautiful – Labrinth featuring Emeli Sandé
Manners (Taped Remix) – Icona Pop
Ferocious Ft. Work – Billy Winn
Heaven – Emeli Sandé
Give Yourself Up (Mig & Rizzo Radio Mix) – Kathy "Sister" Sledge and Adam Barta
I Love It (Wayne G and LFB Remix) – Icona Pop
Wonder – Emeli Sandé featuring Naughty Boy
Nothing This Real – Justin Utley
Breaking The Law – Emeli Sandé
Lonely No More – Eric Himan
Oath – Cher Lloyd
I'm on Fire – Sasha Gradiva
Kai Kai – Sharon Needles featuring Ana Matronic and Alaska Thunderfuck
Crazy in Love – Emeli Sandé and the Bryan Ferry Orchestra
Top Rated – Icona Pop
Next to Me (Manhattan Clique Mixshow Edit) – Emeli Sandé
Running – Eric Himan
Great Escape – Justin Utley
I Love It (Steven Redant '90s Bitch Club Mix) – Icona Pop
You (Ha Ha Ha) – Charli XCX
Let Go – Tinie Tempah featuring Emeli Sandé
With Ur Love – Cher Lloyd