Sinead O'Connor cries out the lyrics right alongside John Grant on Grant's aching song "Why Don't You Love Me Anymore?" The song is about exactly what it sounds like, a man still pining for a no-good ex.
The tune is just one of many great tracks on Grant's new electro-folk album Pale Green Ghosts, and one of several on which the great O'Connor offers haunting backing vocals. And as good as it is, chances are it won't be your favorite. Maybe you'll favor the title track, which kicks off the album in a wondrous deep-house simmer. Or the LCD Soundsystem-esque New Wave rocker "Sensitive New Age Guy." Or the sauntering folk-rock ditty "I Hate This Town," which sounds as sweet as its lyrics are bitter, another song on which Grant struggles to get over what was clearly a serious relationship. "It's so confusing, cause I really want to hate you," Grant sings, "but my intellect reminds me that that doesn't make no sense."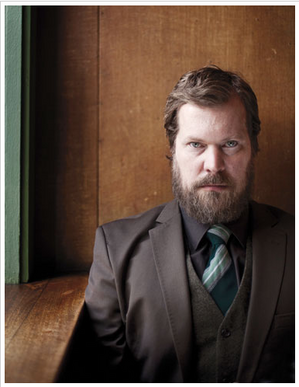 If you like what you hear and you're looking for something to do tonight, Saturday, June 29, the only thing that really makes sense is to stop by U Street Music Hall. There the 9:30 Club presents a concert by the gay Grant, who recently explained to Metro Weekly that it wasn't until he moved to Europe from his origins in small town Colorado that he discovered his musical calling. The oppressive anti-gay attitudes he grew up around stifled his creativity and left the clearly smart man unengaged by school. "I sort-of just gave up, and I didn't try in school anymore, because I didn't think there was any sort of future for me anyway," he said.
That history, plus his more recent struggles with addiction, is the basis for what may be my favorite tune on Grant's new set, "Ernest Borgnine." Yes, it's a song about the late American actor, who died last year. "I wonder what Ernest Borgnine would do?" sings Grant, who uses Borgnine as a stand-in for — no, not Jesus, but the type of nurturing, responsive adult figure he wishes he had had more of in his life. "And when I think about everything that he's been through, I wish he'd call me on the phone and take my ass to school."
To paraphrase Grant, everyone else should take his ass to U-Hall tonight. (Or New York's Mercury Lounge Monday, July 1, or Toronto's Drake Hotel Wednesday, July 3 — the remaining dates on a short tour of North America.)
John Grant performs Saturday, June 29, at 7 p.m. U Street Music Hall, 1115A U St. NW. Tickets are $20.