"I would much rather have a good relationship with the daughter that I have, than a poor relationship with a son that doesn't really exist."
So says dad, Jeremy Mathis, referring to his 6-year-old, transgender daughter, Coy, in the new documentary "Crossover Kids" from Journeyman Pictures. Coy began her "social transition to the other gender" at age four, but became the center of media attention earlier this year.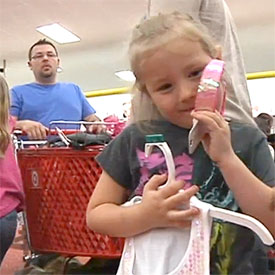 Coy's school, Eagleside Elementary in Colorado, forbade her from using the girls' restroom.
That restriction quickly became fodder for news articles and opinionated discussions on television. Dr. Jim Sears of "The Doctors" apologized in March after saying "You know, at that age, most boys especially will use the bathroom then leave their pants down while they walk to the sink to wash their hands and then pull it up. So it's going to be very uncomfortable for the other girls seeing a penis in their bathroom." Despite suppositions like that, Coy's family won a civil rights suit last week against the school.
"Crossover Kids" also features interviews with several trans teens. Eli, who is 17, tells the filmmakers she found elementary and middle schools difficult because, "I couldn't participate with the girls and I was always singled out. And I didn't have very many friends because of it." She began taking hormones at 15, and recently had gender reassignment surgery via famed surgeon, Dr. Marci Bowers.
For contrast, Journeyman's documentary speaks to Walt Heyer, 72, a former trans woman, who thinks that having reassignment surgery (back in his 40s) was a selfish betrayal of his children. He shares his story as a skeptical warning against the "fashionable" promotion of gender transitions even though, as the filmmakers say, regret is rare among people who have transitioned.
At the end, the documentary returns to the discussion of public facilities and the discomfort level of those who are not transgender. At least, that is the concern expressed by Arizona Rep. John Kavanagh who sought to pass SB 1045 which, in part, would have prohibited "a county, city, town, or other political subdivision of this state from enacting or enforcing an ordinance or policy requiring a person or business to regulate access to privacy areas based on gender identity or expression." That bill has reportedly been shelved for now.
Watch the documentary here: