A recently posted video that's gone viral shows a violent altercation involving a gay man who works as a drag entertainer and two women, which occurred over the weekend at a D.C. restaurant. Initially posted to YouTube, the video shows the man being struck and dragged by his hair in what might be considered a crime motivated by anti-gay bias.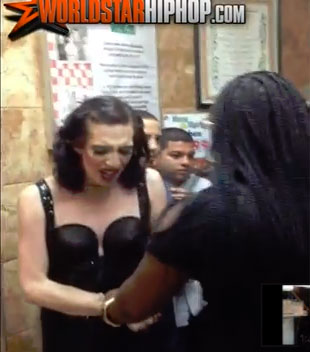 DeNiro, as Heidi Glüm, being grabbed during the incident
(Photo by via WorldStarHipHop.com)
The man in the video, Miles DeNiro, who performs as Heidi Glüm, had just finished performing in a monthly show known as "Gay Bash" at the Black Cat on 14th Street NW around 2 a.m., Sunday, June 23, when he entered Manny & Olga's pizza and take-out restaurant.
DeNiro told Metro Weekly that two women – shown in the video appearing as a black woman and an adult Latina – started criticizing him and touching his face.
"They were jealous of my shoes, my makeup, saying I didn't know how to put it on," DeNiro said. "They started touching my face, and I said, 'Do not touch me.' The black girl pushed me, I pushed her back, she swung at me, I spit in her face."
The video recording the incident was posted online by a user known as "Rick Ross" and has been branded with "WorldStarHipHop.com," referring to a hip-hop site that features a variety of videos, which run the gamut from music videos to fights to embarrassing sexual escapades. In the video, the women are seen attacking DeNiro, grabbing him by his hair and dragging him before two people appearing to be Manny & Olga's employees separate them.
DeNiro told Metro Weekly that the women attacked him twice, although the video only shows one attack. DeNiro said the women were being "egged on" by several men, including the camera operator, who at one point turns the camera on himself and yells while filming the fight.

Images of the two women involved, and the videographer
(Photo by via WorldStarHipHop.com)
"The men were just standing around, saying, 'That's a dude. Beat his ass,"' DeNiro said.
The video shows DeNiro bleeding from his head, trying to stanch the wound with a pack of napkins as he and the black woman continue to yell at each other.
According to DeNiro, no one involved contacted the police at the time of the incident, including other drag entertainers at the scene.
"They were afraid to step in," DeNiro said. "I can't really blame them."
DeNiro said he waited for his order and took it out of the restaurant, where the two women yelled at him again.
"I thought they were going to attack me a third time, but they didn't. They just stood around and yelled anti-gay slurs, like 'faggot' and 'tranny,"' DeNiro said.
While the video has since been removed from YouTube for violating policy on "shocking and disgusting content," it remains active on WorldStarHipHop.com.
DeNiro said he filed a police report with the Metropolitan Police Department's Gay and Lesbian Liaison Unit (GLLU) Monday night and that the officers told him they had filed it as a simple assault and hate crime. DeNiro also said police told him they were going to Manny & Olga's to check the store's surveillance video footage as part of the investigation.
An MPD public-information officer confirmed Tuesday that the two women have filed their own police report detailing their account of the incident. The case remains under investigation.