The D.C. Office of Human Rights (OHR) today announced the appointment of Suzanne Greenfield, formerly of Advocates for Justice and Education (AJE), as the first citywide Bullying Prevention Program director. In this role, Greenfield will help District agencies, educational institutions, recreational centers and grantees implement model anti-bullying policies, as required in the 2012 bill approved by the D.C. Council and signed into law by Mayor Vincent Gray (D).
Greenfield's new position is permanent and falls under the auspices of OHR, meaning the position will not be filled by political appointees, according to OHR spokesman Elliot Imse.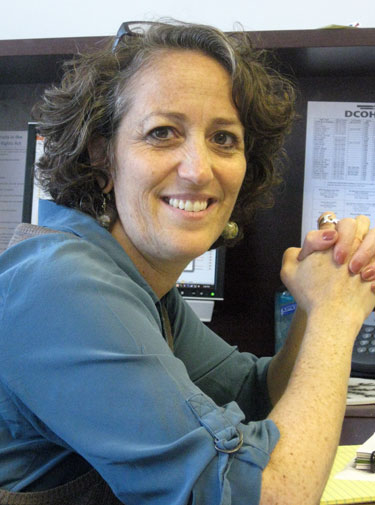 Suzanne Greenfield
As director, Greenfield is tasked with helping various arms of the D.C. government develop model anti-bullying policies, which are expected to align with a comprehensive anti-bullying plan designed by a 42-member task force, of which Greenfield is a member. The task force outline is intended to serve as a "roadmap" for agencies, schools and other places that serve youth, such as recreational centers. She will also help those agencies develop employee and volunteer trainings and reliable methods of tracking and analyzing data on bullying incidents in order to target their roots causes and reduce their frequency.
Notably, bullying is of particular interest to the LGBT community, as data shows LGBT-indentified youth suffer bullying at greater rates than their non-LGBT peers.
"District and school officials, community advocates, parents and youth worked together for nearly eight months to build a roadmap for bullying prevention in the District, and the launch of this program marks our commitment to that roadmap's implementation," Greenfield said in a statement. "There is an enormous task ahead of us, but the importance of the mission and the dedication shown so far makes me confident the District will be a model for states across the nation."
Under the anti-bullying law, government agencies, educational institutions and grantees must prepare and implement their own bullying prevention policies by Sept. 14 and submit them to the task force, which will determine if an agency is in compliance.
"The District is fortunate to have someone with Suzanne's passion and expertise leading the government's efforts to create public environments free of bullying," Gustavo Velasquez, the director of OHR, said in a statement. "She was an invaluable member of the Youth Bullying Prevention Task Force that created the model policy, and will be critical to ensuring its success as it transitions to the policy implementation phase."