I am originally from Usulután, El Salvador, where I founded Mi Nueva Familia, a working group for fellow transgender women living with HIV. Almost four years ago, I arrived in the U.S. and got involved as a health educator with community-based organizations and started attending the Latino GLBT History Project's (LHP) annual DC Latino Pride celebration.
From Day One, I felt welcomed. My ideas were appreciated and being used to plan LHP's annual events and presentations. For the first time in a long time, I was being heard.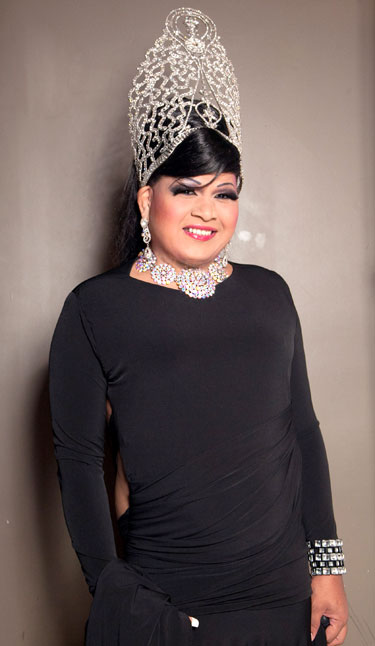 Alexa Rodriguez
That's what LHP is all about. We strive to include the full diversity of DC's Latino LGBT community in all of our programming, leadership and events. Celebrating our culture and identity creates welcoming spaces.
Our Pride planning included bilingual planning meetings to ensure that events like our panel discussion on immigration included simultaneous translation. We worked carefully to select venues and with club owners to ensure a smooth and welcoming process for everyone regarding IDs. We also made sure to include recent immigrants, Latinos who have been in the U.S. for years, DREAMers, youth, professionals, community organizers, and any member of the community who was interested in volunteering for our cause.
Since Jose Gutierrez founded DC Latino Pride in 2007, it has grown into to a celebration of over 900 LGBT Latinos and allies through three signature events. We partner with 35 of D.C.'s best local and national organizations and 30 host committee members. Our events showcase the history, celebration, identity, diversity, health and faith of our community via the Human Rights Campaign, Town Danceboutique and the Metropolitan Community Church. We also place a special focus on visibility for our cause. With reached more than 350,000 Latinos with a week of LGBT tolerance messages on "El Zol" 107.9 FM, the region's leading Spanish language radio station.
And the best part of all this? DC Latino Pride is 100 percent volunteer-run. Our group of 45 volunteers included the first transgender co-chair, Gladys Gonzalez from La Clinica del Pueblo's Empodérate program; and co-chairs Wil Gutierrez, a fellow Salvadoran from Maryland, and Jose L. Plaza, a graduate fellow with the Congressional Hispanic Caucus Institute. And our outreach team was led by José Ramirez of Identity, May Sifuentes of Planned Parenthood Federation of America, and Nancy Cañas, mother and lesbian Latina burlesque performer.
Our Pride celebration also helps LHP raise funds we use to invest in year-round community education programs. During my reign as Miss Latino GLBT History Project 2012-2013, I have been able to learn from the educational and leadership-development opportunities LHP has to offer. Earlier this year, LHP sponsored a group of four D.C.-based advocates to attend the first LGBT Latino Institute at the National Gay and Lesbian Task Force's Creating Change conference in Atlanta. We also sponsored lodging for four members of the national Trans-Latina Coalition – something very personal to me and my story.
I have had the opportunity to talk about transgender identity on El Zol's prime morning show and on Univision, and to invite D.C.-area Latinos to our Pride celebration. Now I am working on hosting two educational forums for 2013, which I suggested to the LHP board.
I want you to know: Las puertas están abiertas. The doors are open.
We invite community members to join our LHP familia and our mission to preserve the history of, celebrate and empower LGBT Latinas and Latinos.
Alexa Rodriguez is a board member of the Latino GLBT History Project and of the national Trans-Latina Coalition. She works as a health educator with Identity Inc. in Maryland. She can be reached at arodriguez@latinoglbthistory.org.