Deep into Act 1 of Anything Goes, two listless gossipmongers groan that there's nobody famous aboard this voyage of the cruise ship the S.S. American. Turns out, they just needed to look harder — and lower their standards. Once word gets out that there's not one but two hardened criminals sailing among the passengers, the boat erupts in hedonistic delight and frivolity.
By this point, Cole Porter's classic show has also made it past some rough waters and is about to reach its high-water marks: two of the very best numbers in all of musical-theater land, which are performed almost back to back. There's the Act 1 swashbuckling closer, "Anything Goes" — complete with a full cast tap-dancing breakdown — and then the ribald "Blow, Gabriel Blow" at the top of Act 2. The show's head diva, Reno Sweeney (a fantastic Rachel York), takes passengers to church in this deliciously sacrilegious ditty that makes you want to jump up and shout "Amen!" and "Hallelujah!"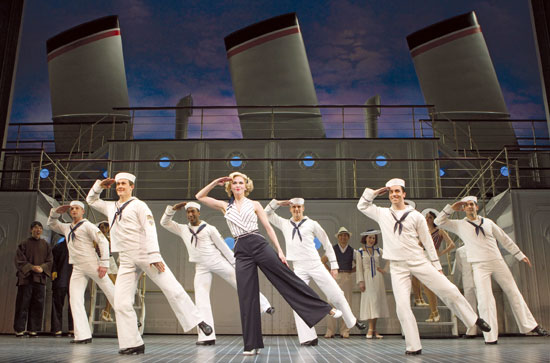 Anything Goes
(Photo by Joan Marcus)
That a show almost 80 years old still has such a powerful effect is testament to the skills of its master craftsman, Cole Porter. Porter's most famous musical has been tinkered and revised on many occasions, with songs cut or shuffled around. But several of his American Songbook standards are here, from the title tune to "I Get a Kick Out of You" to "It's De-Lovely." The book still isn't absolutely perfect, not so much because of the many impossibly far-fetched plotlines, but more because several scenes last longer than they should, and the dialogue drags here and there. Certainly there were a lot of cooks on this book. The version now at the Kennedy Center features a new book by Timothy Crouse and John Weidman, who revised the work of two other writing teams: P.G. Wodehouse and Guy Bolton and Howard Lindsay and Russel Crouse (Timothy's dad).
Set aboard a big cruise ship, there are naturally many things going on, and enough subplots that you could easily lose sight of the show's central message: Sometimes you have to go to great lengths to find, or realize, true love. Anything Goes wraps up neatly and tidily — and also a tad unrealistically — like an old-fashioned Hollywood tale. Of course, Anything Goes is old fashioned. Thankfully New York's Roundabout Theatre Company didn't go overboard trying to modernize the show or make it new. The company's touring production holds up exceptionally well to its 2011 Broadway revival, which won much acclaim and many accolades, including multiple Tonys. Here as there: Kathleen Marshall's direction is sharp and her choreography tight and awe-inspiring; Derek McLane's sets render the art deco era in full glory; and the late Martin Pakledinaz's costumes accentuate the show's joie de vivre, not to mention the assets of a crew of randy sailors aboard the boat.
Anything Goes




To July 7
Kennedy Center
$25 to $115
202-467-4600
kennedy-center.org
Rachel York leads the touring production cast almost as effortlessly as Sutton Foster did in her Tony-winning turn on Broadway two years ago. She does occasionally outshine her co-stars, particularly as the show begins. It seems to take Josh Franklin, for example, a song or two to find his sea legs playing Billy Crocker, the stowaway who successfully risks life and limb in pursuit of the boat's beauty queen Hope Harcourt (Alex Finke). Crocker also becomes one of the showboat's two celebrities — since among his many disguises he portrays "Snake Eyes" Johnson, Public Enemy 1. The other criminal-cum-celebrity is the second-rate gangster Moonface Martin, played by Fred Applegate, who oozes just the right amount of smarm for the role. High on the list of other charmers among the large cast is Joyce Chittick, who plays the vampy Erma. Erma uses her feminine wiles to seduce several sailors throughout the show, and at show's end sings Porter's ode to promiscuity, "Buddie, Beware."
The show's famous title song winks and nods as it giddily deplores a post-Puritan debased culture where good's bad and black's white — and women's lib has run amok. The not-so-openly gay Porter was a master at disguise: His clever lyrics are often less wholesome — or in any case more sexual — than they first appear. On the surface you might think Anything Goes is a critique of society and pop culture. But it's all just for show. And what a show!