Got a hankering for a classic musical? It's pretty easy to get a fix around this theater-loving town. Generally there's at least one classic being staged somewhere nearby. A glance at the calendar proves that that axiom will mostly hold for the remainder of 2013. Next week opening in previews, for example, is a Studio Theatre production of The Rocky Horror Show. Of course that's only a cult classic. A true classic comes in August, when Olney Theatre offers the singular sensation A Chorus Line. And then at the end of the year Signature Theatre offers what may be the greatest classic musical of all time – at least it remains this theater critic's favorite classic – Gypsy.
But this weekend you can get your fix with not one but two classics: Company at Signature Theatre and Anything Goes at the Kennedy Center. As you can see from excerpts below of my original Metro Weekly reviews, both are strong productions, and hard to go wrong.



1/2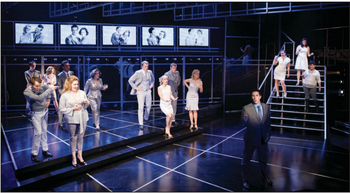 Stephen Sondheim was on to something when he wrote Company with book writer George Furth 43 years ago. Even today, in an age when we're arguably more critical of the status quo and established institutions than ever, it stands out for the way it goes against the grain of our media-propelled notions that we'll live happily ever after — if only we can find true love. To celebrate his 35th birthday, Bobby (a charming Matthew Scott), the central character in Company, surrounds himself with married friends who are obsessed with his single status and suggest it's a defect in his character. For this production, Signature Theatre's Eric Schaeffer tapped real-life married actor pairs to portray three of the five couples in the show — for the record, none of them are gay, and neither are really any of the characters. That does give a boost to the show, adding subtle levels of natural comfort among the actors. Company seems pretty much of a fail-safe musical, especially in Schaeffer's capable and Sondheim-expert hands. Closes this Sunday, June 30. Signature Theatre, 4200 Campbell Ave., Arlington.




Cole Porter's classic show features two of the very best numbers in all of musical-theater land, which are performed almost back to back: the Act 1 swashbuckling closer, "Anything Goes" — complete with a full cast tap-dancing breakdown — and then the ribald "Blow, Gabriel Blow" at the top of Act 2. The show's head diva, Reno Sweeney (a fantastic Rachel York), takes passengers to church in this deliciously sacrilegious ditty that makes you want to jump up and shout "Amen!" and "Hallelujah!" That a show almost 80 years old still has such a powerful effect is testament to the skills of its master craftsman, Cole Porter. Set aboard a big cruise ship, there are naturally many things going on, and enough subplots that you could easily lose sight of the show's central
message: Sometimes you have to go to great lengths to find, or realize, true love. Anything Goes wraps up neatly and tidily — and also a tad unrealistically — like an old-fashioned Hollywood tale. Of course, Anything Goes is old fashioned. Thankfully New York's Roundabout Theatre Company and director/chroeographer Kathleen Marshall didn't go overboard trying to modernize the show or make it new. The company's touring production holds up exceptionally well to its 2011 Broadway revival, which won much acclaim and many accolades, including multiple Tonys. Closes next Sunday, July 7. Kennedy Center Opera House.