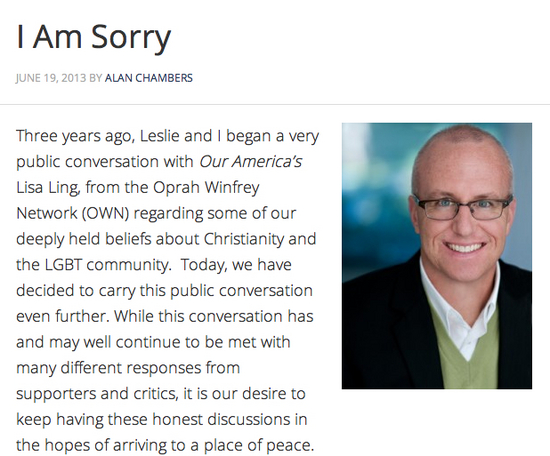 An anti-gay Christian ministry that sought to "cure" gay people has announced it will shut down after more than three decades.
Exodus International, which brands itself "the oldest and largest Christian ministry dealing with faith and homosexuality," announced in a statement Wednesday night that the board of directors reached the decision to close the ministry's doors "after a year of dialogue and prayer about the organization's place in a changing culture."
The board's decision came hours after Alan Chambers, the president of the Florida-based ministry, who has noted his own struggles with "same-sex attractions," issued an apology to the LGBT community for any harm he may have caused, writing that he was "deeply sorry."
I am sorry for the pain and hurt many of you have experienced. I am sorry that some of you spent years working through the shame and guilt you felt when your attractions didn't change. I am sorry we promoted sexual orientation change efforts and reparative theories about sexual orientation that stigmatized parents. I am sorry that there were times I didn't stand up to people publicly "on my side" who called you names like sodomite—or worse. I am sorry that I, knowing some of you so well, failed to share publicly that the gay and lesbian people I know were every bit as capable of being amazing parents as the straight people that I know. I am sorry that when I celebrated a person coming to Christ and surrendering their sexuality to Him that I callously celebrated the end of relationships that broke your heart. I am sorry that I have communicated that you and your families are less than me and mine.

More than anything, I am sorry that so many have interpreted this religious rejection by Christians as God's rejection. I am profoundly sorry that many have walked away from their faith and that some have chosen to end their lives. For the rest of my life I will proclaim nothing but the whole truth of the Gospel, one of grace, mercy and open invitation to all to enter into an inseverable relationship with almighty God.
However, Chambers continued, "I cannot apologize for my deeply held biblical beliefs about the boundaries I see in scripture surrounding sex, but I will exercise my beliefs with great care and respect for those who do not share them. I cannot apologize for my beliefs about marriage. But I do not have any desire to fight you on your beliefs or the rights that you seek. My beliefs about these things will never again interfere with God's command to love my neighbor as I love myself."
Shortly after, the organization announced it would be replaced by a separate ministry for a "new generation." Although the statement stipulated local affiliated ministries will continue to function on their own, it offered few specifics on the new ministry, other than it will seek to "reduce fear" and "come alongside churches to become safe, welcoming, and mutually transforming communities."
LGBT-rights advocates emphasized the magnitude of Exodus International's closing, with Truth Wins Out Executive Director Wayne Besen, who has fought the "ex-gay" movement for decades, describing it as "an earthquake that is shaking the very foundations of the 'ex-gay' industry."
"We feel vindicated with our efforts to expose these groups and reveal their great destruction," Besen said.
"Although new groups are vying to fill the vacuum, the passing of Exodus casts a huge shadow of doubt on their work and cuts right to the heart of their credibility."
According to Sharon Groves, director of the Human Rights Campaign's Religion and Faith Program, the "right kind of reparative work" left to be done is to convince other religious-based institutions that reparative therapy is wrong.
"Exodus was the oldest and largest pseudo-religious organization telling vulnerable people there was something wrong with them, when in fact they are God's children," Groves said in a statement. "But the truth remains there are other organizations out there perpetuating the same myths, telling young people they aren't loved and perfect the way they are, and causing grave harm in so many people."
Exodus International's closing comes as an episode of Lisa Ling's Our America television show on "ex-gay" therapy and featuring Chambers is schedule to air Thursday night on the Oprah Winfrey Network.
[Image: Screenshot of Alan Chambers's apology from exodusinternational.org.]