For last year's Capital Pride Parade, I brought along my 12-year-old nephew. So in the interest of equality, this year I brought along my 12-year-old niece, Vivienne, to ride along with Metro Weekly as we threw thousands and thousands of beads into the cheering crowds.
Naturally, being at her first-ever LGBT event, besides her two uncles' wedding, Vivienne learned an important lesson: People really, really love beads. She also got to see that the gay community is a big, broad and diverse group of people who celebrate Pride in outfits that range from staid to outrageous, who embrace the colorful and the plain, who are basically the same as the people she sees around her all the time.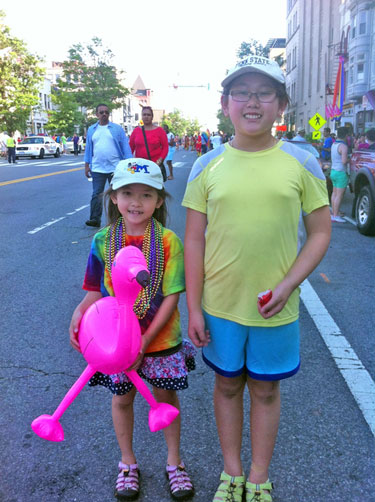 Jacqueline and Vivienne at the Capital Pride Parade
(Photo by Sean Bugg)
I learned a couple things myself. First, while handling my nephew during last year's Pride felt at times like trying to corral a hopped-up howler monkey, Vivienne was much calmer and inquisitive about the people around her — there really is a big difference between preteen boys and girls. Second, I realized that whenever you're around a child you run the risk of being asked questions that relate to birds and bees.
"Why is she dressed like a cookie?" Vivienne asked, pointing to the woman dressed as a large blue circle with white dots while standing next to a man dressed as a condom-covered banana on the Planned Parenthood float in front of us.
"Um, she's dressed as birth-control pills," I said. "And he's a condom."
She shook her head, not really getting it.
"They try to help people have babies only when they want to have babies."
"Oh, okay."
Actually, both of us got an important lesson out of that. And that's great, because Pride has increasingly become a family outing for me. My husband, Cavin, is with us every year taking photos of the crowd. Vivienne came with her mom and her little sister, Jacqueline, who rode in the cab of the truck. Jacqueline has a few more years before she'll be able to see over the bunting so she couldn't throw beads, but she managed to snag a pink flamingo, which she promptly named "Pickle."
Yeah, I don't know either.
Point is, the Capital Pride Parade has long been a diverse example of who makes up our community. I get rather annoyed at things like the Washington Post story on religious groups and others marching in the parade: "Near nudity, displays of affection that left little to the imagination and Speedos that left even less have given way, in part, to lots of hand-holding, the Geico lizard and T-shirted groups from Baptist, Methodist and Presbyterian congregations around the region."
That "gave way" a long, long time ago. I hate the implication behind it, that somehow the drag queens and the leather community and topless lesbians need to be outnumbered by "normal" gays and corporate mascots. I like being around big-haired queens and dykes on bikes. I also liked being surrounded by the AARP float and the AQUA contingent. (It was nice for my nieces to see Asian-Americans like them in the parade.) We're long past the days when the participation of religious contingents would be "news" — they've been right alongside us for years.
Perhaps I'm being picky. It wouldn't be the first time. But I've come a long way in my life, from partier to activist to business owner to family man, and each step of the way Pride has had room for me. It has room for all of us. Even if my nieces and nephews weren't there with me, I'd still consider it a family affair.
Sean Bugg is the co-publisher of Metro Weekly. He can be reached at sbugg@MetroWeekly.com. Follow him on Twitter @seanbugg.