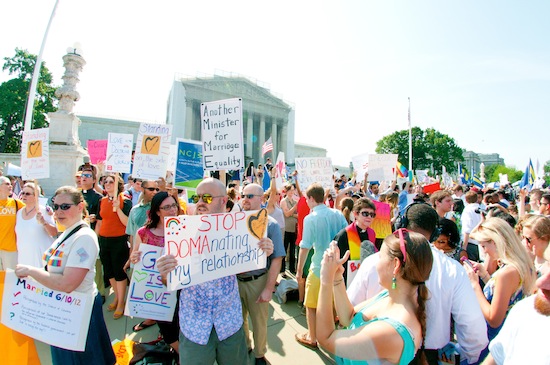 Hours after the Supreme Court struck down Section 3 of the Defense of Marriage Act as unconstitutional, the federal government is moving rapidly to implement the high court's decision.
In a series of statements, heads of several major federal departments and agencies confirmed that they are moving swiftly to extend some of the more than 1,100 federal rights and benefits previously denied to same-sex couples under DOMA.
"This decision impacts a broad array of federal laws," said Attorney General Eric Holder in a statement released shortly after the high court ruled 5-4 to strike down the federal government's definition of marriage as between a man and a woman. "At the President's direction, the Department of Justice will work expeditiously with other Executive Branch agencies to implement the Court's decision."
As Justice Anthony Kennedy wrote in his majority opinion for the court, "DOMA writes inequality into the entire United States Code. The particular case at hand concerns the estate tax, but DOMA is more than a simple determination of what should or should not be allowed as an estate tax refund. Among the over 1,000 statutes and numerous federal regulations that DOMA controls are laws pertaining to Social Security, housing, taxes, criminal sanctions, copyright, and veterans' benefits."
At a press conference this afternoon at the Pentagon, Defense Secretary Chuck Hagel said he was not yet sure what additional costs there would be for the department after extending full benefits to same-sex military families, but that they are "looking forward to taking that decision and implementing the required next steps."
"The Department of Defense welcomes the Supreme Court's decision today on the Defense of Marriage Act," Hagel said in a statement. "The department will immediately begin the process of implementing the Supreme Court's decision in consultation with the Department of Justice and other executive branch agencies. The Department of Defense intends to make the same benefits available to all military spouses — regardless of sexual orientation — as soon as possible. That is now the law and it is the right thing to do."
Earlier this year, in one of his last acts as defense secretary, Leon Panetta ordered the extension of certain benefits still denied to gay servicemembers more than a year after the September 2011 repeal of "Don't Ask, Don't Tell" by the end of this summer.
Panetta's order included key benefits long called for by advocates, including military IDs for spouses of gay servicemembers, legal services and access to Morale, Welfare and Recreation programs. However, benefits such as health care and housing allowances were not included because of the definitions of "spouse" and "marriage" under DOMA. With the court's ruling that Section 3 of DOMA violates the Fifth Amendment, it appears same-sex military families will now receive full rights and benefits.
The ruling will have an impact on the immigration process as well. According to Homeland Security Secretary Janet Napolitano, "Working with our federal partners, including the Department of Justice, we will implement today's decision so that all married couples will be treated equally and fairly in the administration of our immigration laws."
Previously, under DOMA, immigrants in relationships with Americans of the same-sex were denied various protections, including eligibility for green cards, because the federal government did not recognize their relationships. In May, Sen. Patrick Leahy (D-Vt.) was successfully pressured by members of the Senate Judiciary Committee to withdraw an amendment that would have provided protections for binational same-sex couples in immigration reform. Leahy reintroduced that amendment in the Senate this month, but announced today that he would not seek a vote on that amendment.
"With the Supreme Court's decision today, it appears that the anti-discrimination principle that I have long advocated will apply to our immigration laws and to binational couples and their families can now be united under the law," Leahy said on the Senate floor. "As a result of this very welcomed decision, I will not be seeking a floor vote on my amendment."
The Department of Health and Human Services as well as the Office of Personnel Management have also said they are working swiftly to implement the DOMA decision. OPM Acting Director Elaine Kaplan said in a statement that while the OPM recognizes "our married gay and lesbian employees have already waited too long for this day, we ask for their continued patience as we take the steps necessary to review the Supreme Court's decision and implement it."
However, there remains uncertainty for how the DOMA decision will apply to same-sex couples who were legally married in states that recognize marriage equality, but have moved to states that do not recognize their marriages. According to the Human Rights Campaign, some federal agencies look to where a marriage was performed to determine benefits, while others look to the current state of residence. And because the Supreme Court only considered the constitutionality of Section 3 of DOMA, rather than the entire act, advocates insist Congress must repeal DOMA in its entirety.
"Federal recognition for lesbian and gay couples is a massive turning point for equality, but it is not enough until every family is guaranteed complete access to the protections they need regardless of state borders," HRC President Chad Griffin said in a statement.
Today, the Respect for Marriage Act, which would award full federal benefits to married same-sex couples living in states where their marriages are not recognized, was reintroduced in the Senate and House of Representatives.
"We have momentum on our side, and it's only a matter of time until the remaining parts of DOMA are entirely repealed," said Griffin.
[Photo: Marriage-equality supporters outside the Supreme Court this morning (Credit: Todd Franson/Metro Weekly).]