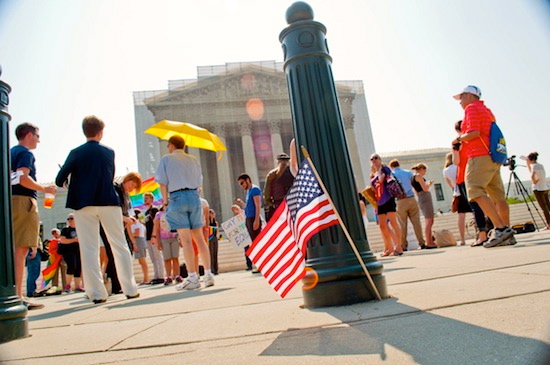 A federal judge on Friday temporarily blocked a Michigan ban on domestic partner benefits for public employees, applying for the first time the Supreme Court's broad ruling striking down Section 3 of the Defense of Marriage Act to declare the law unconstitutional.
U.S. District Court Judge David M. Lawson found the 2011 law to be discriminatory and a violation of the Equal Protection Clause of the U.S. Constitution because it forces cities, counties, school districts and community colleges to drop family benefits for employees in same-sex relationships.
Lawson's 51-page opinion cited Supreme Court Justice Anthony Kennedy's majority opinion in United States v. Windsor issued earlier this week, marking the first of what marriage-equality advocates hope to be many federal court rulings siding with same-sex couples that apply the Supreme Court's sweeping ruling in the DOMA case.
"[T]he Court takes guidance from the Supreme Court's decision invalidating DOMA, which determined legislative purpose by looking to the 'history of…enactment' and the statute's 'own text,'" Lawson wrote. "Looking to the history and text of Public Act 297, it is hard to argue with a straight face that the primary purpose — indeed, perhaps the sole purpose — of the statute is other than to deny health benefits to the same-sex partners of public employees. But that 'can never be a legitimate governmental purpose.'"
According to the Associated Press, Lawson added that the state's argument that the law saves the state money "come close to striking (the court) with the force of a 5-week-old, unrefrigerated dead fish."
Lawson issued a preliminary injunction, meaning the case is not over, but, according to the Associated Press, public school districts and local governments can now begin awarding benefits to same-sex couples and straight couples in domestic partnerships. The state could also still appeal the decision.
The ACLU challenged the law, which was passed in 2011 by the Republican-controlled legislature and signed into law by Republican Gov. Rick Snyder, and arguments were first heard nearly a year ago.
"This law served no purpose to the state of Michigan other than to needlessly discriminate against hard-working families," said Kary L. Moss, executive director of the ACLU of Michigan, in a statement. "It's hard to encourage talented people and their families to work for public employers in Michigan when they're denied the ability to take care of each other."
Michigan voters approved a ban on same-sex marriage in 2004.
[Photo: U.S. Supreme Court (Credit: Todd Franson/Metro Weekly)]