"It's always been the gay community that really connects first," Emeli Sandé says. "I have a big gay fan base, which I think is fantastic."
That was Scottish singer/songwriter Sandé in an interview with Metro Weekly in advance of what turned out to be a commanding performance at the Howard Theatre this past January. Since that profile, Sandé's career has really started to take off in the U.S. Both her great gospel-inspired single "Next to Me," and her stunning debut album Our Version of Events have cracked the Top 40 of their respective Billboard charts. And her fan base has grown far beyond the gay market and the music cognoscenti to include the First Family, who tapped her to perform at a ceremony honoring Carole King in May that aired on PBS.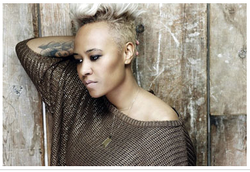 Though Sandé was unfortunately unavailable for a second interview with Metro Weekly for our pre-Capital Pride issue, we thought it worth sharing a couple things she had said that previously went unpublished. For starters, there's the 26-year-old's reflection on the rapidly changing state of pop music.
"When I look back to when I really started writing in the industry, there's just so much more variety," she said. "It feels like there are no rules anymore, whereas five, six years ago there were very kind of rigid boxes…People are just open to so many different types of music now."
In that same Metro Weekly interview Sandé, who can belt with the best of them, revealed that she doesn't have formal training as a singer. She didn't even study music in college, instead pursuing a premed track focused on neuroscience and psychiatry. While she did learn to play classical piano, "my voice was just always something that I wanted to keep very natural. So I've never had voice lessons." Yet the rigors of performing constantly as a pop star have since necessitated some training. "I've had a few coaching sessions, just to learn how to protect my voice," she concedes. "I'm singing more than ever before in my life, so I want to make sure I'm not damaging anything and that I can continue for as long as I want."
Pridegoers no doubt will feel the same once they catch Sandé at the Capital Pride festival this Sunday, June 9, in the 4 p.m. hour.