Last year Sinead O'Connor released a cover version of a John Grant song. But that was only the start of O'Connor singing Grant's praises. O'Connor persuaded the up-and-coming artist to let her handle backing vocals on his new album, the eclectic and sophisticated Pale Green Ghosts. The usually commanding Irish pop star holds back, so that she's mostly just haunting the folk/electronica tunes here.
"We just really hit it off and became good friends," Grant explains. The two artists have bonded so well the liner notes credit backing vocals to "Sinead O'Connor (Mrs. John Grant)." That's "just a little joke," Grant responds — a joke, in part, because Grant is gay.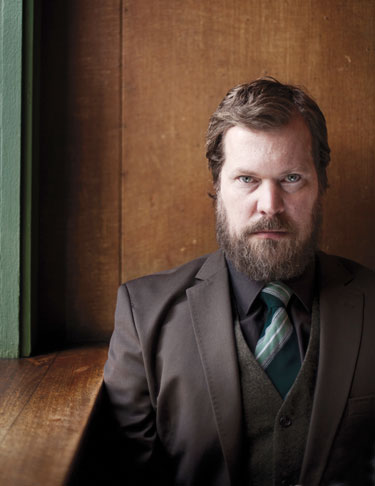 John Grant
(Photo by H. Sveinsson)
Grant seemingly lacked for jokes, even good humor, as a gay teenager in the small town of Parker, Colo. "Once it had been pounded into me that I was not really a human being [and that] there was something very wrong with me," Grant says, referring to the anti-gay attitudes around him back then, "I sort of just gave up. I didn't try in school anymore, because I didn't think there was any sort of future for me anyway."
Grant couldn't see his future in music until he got out and saw the broader world, first settling in Germany, where he lived for six years until the mid-'90s. Grant now makes his home in Reykjavik, Iceland's capital. He recorded most of Pale Green Ghosts in the Nordic country, working with Biggi Veira of notable Icelandic band GusGus, known for a stylish, playful, chill-out vibe. The new set is a departure from his 2010 solo debut, Queen of Denmark, which was more rooted in folk rock.
"I've always wanted to go in the electronic direction, because that's the music that I listened to the most growing up," Grant says, singling out one Swedish band in particular. "Of course I loved ABBA more than any [other artist]." Grant was also weaned on classical piano, and especially favored Russian composers Rachmaninoff and Prokofiev. Pale Green Ghosts even ends with an unexpected romantic piano coda.
"I suppose," he laughs, "that's sort of where the melodrama comes from."
John Grant performs Saturday, June 29, at 7 p.m. U Street Music Hall, 1115A U St. NW. Tickets are $20. Call 202-588-1880 or visit ustreetmusichall.com.