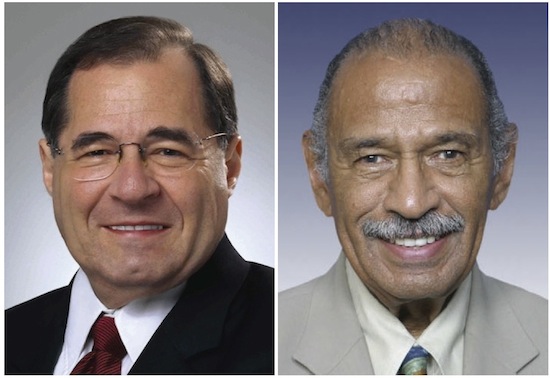 Democrats on Capitol Hill are seeking to extinguish LGBT housing discrimination with legislation introduced today that would amend a key provision of the Civil Rights Act.
Introduced by Reps. Jerrold Nadler (D-N.Y.) and John Conyers (D-Mich.) in the House of Representatives and Sen. Sherrod Brown (D-Ohio) in the Senate, the Housing Opportunities Made Equal (HOME) Act would amend the Fair Housing Act to prohibit discrimination in the sale or rental of housing, the financing of housing and in brokerage services on the basis of sexual orientation, gender identity, source of income or marital status.
The Fair Housing Act, also known as Title VIII of the Civil Rights Act, currently makes it illegal to discriminate on the basis of race, color, religion, national origin, gender, disability or familial status.
"LGBT Americans, non-traditional families, and the disabled should not be subjected to housing discrimination at the hands of the unscrupulous or bigoted," Nadler said in a statement. "This legislation will ensure that the Fair Housing Act and the Equal Credit Opportunity Act are actually protecting ALL Americans and guaranteeing people of any sexual orientation, gender identity, marital and familial status, and source of income the right to the housing they choose."
The proposed legislation would also amend the Fair Housing Act's definition of "familial status" to include "anyone standing in loco parentis" of one or more children under the age of 18 so as to "more accurately reflect contemporary family arrangements," according to Nadler's office.
"We can't win the fight for equal housing opportunities without the HOME Act and its greater protections against housing discrimination," Conyers said in a statement.
The legislation comes after the release of a first-of-its kind national study earlier this month by the Department of Housing and Urban Development (HUD) that found same-sex couples face discrimination in the online rental-housing market at rates higher than opposite-sex couples.
With no federal housing legislation protecting LGBT people, the study found that straight couples were more likely to receive responses to their email inquiries about rentals and were favored over gay couples in 15.9 percent of tests and over lesbian couples in 15.6 percent of tests.
Much like other pieces of federal antidiscrimination legislation, the bill likely faces an uphill battle in the Republican-controlled House of Representatives.
[Photos: Jerrold Nadler (left) and John Conyers (Courtesy of the House of Representatives)]
Read the House bill here: