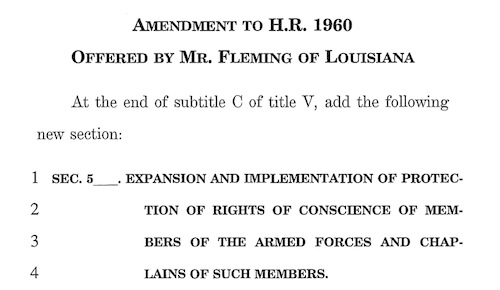 House Republicans are again attempting to adopt protections for religious liberty in the military that would open the door to discrimination in the wake of the repeal of "Don't Ask, Don't Tell."
An amendment to the National Defense Authorization Act adopted by the House Armed Services Committee Wednesday evening would "protect inappropriate, defamatory, and discriminatory speech and actions," according to the nation's largest LGBT military organization.
"Religious liberty is a core American value, and we support the accommodation of all beliefs. What we can never support is legislation that sanctions one belief at the expense of others and places unit cohesion, the safety of our troops, and their ability to accomplish the mission in jeopardy, and that's exactly what this bill would do," said OutServe-SLDN Executive Director Allyson Robinson in a statement. Moreover, the amendment would take away the ability of military commanders to maintain order by exercising control over behavior in the field and give that authority to lawmakers.
The amendment, offered by Louisiana Republican Rep. John Fleming, would broaden a "conscience clause" that was included into the defense budget signed into law by President Barack Obama in January. Obama described that provision as "unnecessary and ill-advised," but signed the massive military spending bill anyway because the Constitution forbids him from rejecting particular provisions.
"The military already has in place policies that adequately protect a service member's personal beliefs while also protecting unit cohesion and good order and discipline," said Robinson. "This amendment is nothing but a thinly veiled attempt to sabotage the climate of inclusion and respect for all that our Commander-in-Chief and Secretary of Defense have called for in our military, and would create a license to bully, harass, and discriminate against service members based on religion, gender, sexual orientation, or any number of other characteristics."
The Senate is expected to begin consideration of their own version of the defense bill later this summer.