A D.C. Superior Court judge Friday sentenced Ali M. Jackson, 20, of Washington, to eight years in prison and three years supervised release after pleading guilty in January to a charge of assault with intent to kill for stabbing a 16-year-old male while making threatening statements and uttering anti-gay epithets.
Judge Patricia Broderick sentenced Jackson to 90 months, or seven-and-a-half years, in prison for the charges, which carried a bias enhancement. Broderick also sentenced Jackson to an additional six months' incarceration for an incident in which Jackson punched a corrections officer at the D.C. Jail on Dec. 15, 2012.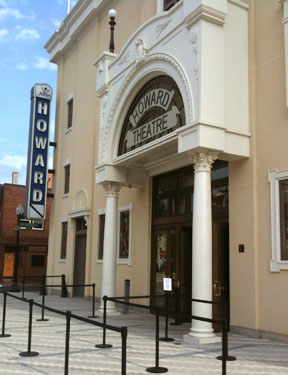 Howard Theatre
(Photo by JD Uy)
Jackson's two accomplices in the attack on the gay teen pleaded guilty in March to crimes related to the stabbing. Jackson's sister, Alvonica Jackson, 26, pleaded guilty to simple assault and second-degree theft and was sentenced to 360 days in jail, with 330 days suspended, on the condition that she successfully complete two years of probation. Under the terms of her plea agreement, Alvonica Jackson served four consecutive days in jail and then served the remaining 26 days of her sentence on weekends. Her last day in jail was June 23 and she remains on probation.
Alvonica Jackson's boyfriend, Desmond Raimon Campbell, pleaded guilty to simple assault and was sentenced to 180 days in jail, with 150 suspended, on the condition he successfully complete two years of probation. Campbell was also found guilty and sentenced in April on a charge of receiving stolen property, for which he received another 180 days of incarceration, 170 of which were suspended. His lawyer is appealing that sentence.
Metropolitan Police Department (MPD) chief Cathy Lanier and U.S. Attorney for the District of Columbia Ronald Machen celebrated Jackson's sentencing in a press release Friday.
"Violence fueled by hate tears at the fabric of our society," Machen said in a statement. "It harms not only its direct victims, but spreads fear and intimidation throughout our community. As this prison sentence demonstrates, in the District of Columbia, we have zero tolerance for violence crimes driven by ignorant prejudice."
"With today's sentence, Ali Jackson must now face the consequences of his violent hate crime," Lanier said. "We hope that other who might consider committing bias-related offenses will pay attention to today's sentencing and choose not to follow in Ali Jackson's footsteps. I applaud the hard-working members of this department for their investigative efforts in helping to make today's sentencing possible and the support of the U.S. Attorney's Office for their outstanding work in this case."
Hassan Naveed, the co-chair of the anti-hate crime group Gays and Lesbians Opposing Violence (GLOV) also praised the sentence Jackson received for the attack.
"Today's sentence, which includes the bias enhancement charge, sends the crucial message that hate violence will not be tolerated in our city," Naveed said in a statement. "GLOV commends the efforts of the U.S. Attorney's Office and the Metropolitan Police Department in bringing justice to the victim and the LGBT community."
According to the government's evidence, Campbell and Alvonica Jackson entered the Howard Theatre, in the 600 block of T Street NW, on the evening of June 26, 2012, at which time Alvonica Jackson stole $2 from a tip jar in the women's restroom.
At the same time, Ali Jackson was outside near the intersection of Georgia and Florida Avenues NW. He recognized the victim and started a confrontation with the teen. Jackson threatened to stab the victim, called him a "faggot" and asked a group of men nearby if they had a knife so he could stab the victim.
When the men did not provide Jackson with a knife, he fled into an alley adjacent to the Howard Theatre, returning with a knife, sneaking behind the victim, and yelling, "I'm gonna poke your bitch ass, you faggot!" and at one point telling the victim, "I'm going to kill you."
As Jackson came closer, the victim sprayed him with pepper spray, at which point Campbell came behind the victim and choked him. Ali Jackson then stabbed the teen in the left arm, the left side of his back and the left leg. During the stabbing, the victim was attempting to swing his arms at Ali Jackson, but Alvonica Jackson grabbed his arms. The three stopped attacking the victim when they heard police sirens. Both Alvonica Jackson and Campbell also yelled homophobic slurs during the attack, and afterwards, when they were in police custody following their arrest a short time later.
The victim, who survived the attack, was taken to Howard University Hospital and treated for his stab wounds before being released.