[Update: Watch Icona Pop perform at the Capital Pride Festival at end of this article.]
Caroline Hjelt and Aino Jawo sing and shout in unison on "I Love It," their hit punky-pop anthem. It's hard to imagine either of the ladies, known collectively as Icona Pop, singing the song solo.
"That's not an option," the 26-year-old Jawo says. "I'm just so happy that we're doing this together."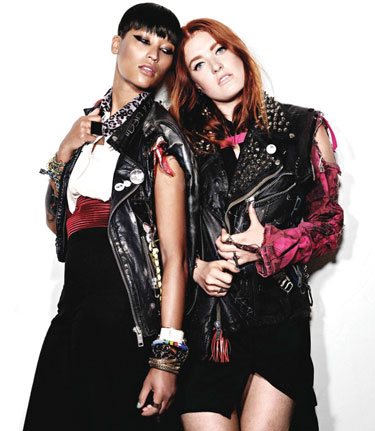 Icona Pop
(Photo by Fredrik Etoall)
"I could not … imagine doing it without Aino," seconds Hjelt, 25.
The two have been nearly inseparable since they first met in their native Sweden in 2009. They even describe their relationship as platonic soul mates — "a perfect match," in Hjelt's words. During a recent phone conversation from Los Angeles, where they were hard at work putting together their debut album, due out later this year, Hjelt and Jawo occasionally stepped in to finish each other's thoughts and sentences — just as countless soul mates have done before them.
Over the past several years the two have moved from Stockholm to London to most recently New York, putting down roots to properly nurture a global pop-music career. Both "I Love It" and the appealing EP Iconic — featuring five additional dance songs — were released in 2012. Icona Pop was even heralded as "Music's Next Big Thing" by The Daily Beast/Newsweek after taking by storm New York's influential CMJ Music Marathon festival last October.
But it wasn't until this year that Icona Pop started to live up to that billing, catching fire in the mainstream. Just in time for Pride, the duo has released the new girl-power single "Girlfriend." Meanwhile "I Love It" remains lodged in the Top 10 of the Billboard Hot 100. The song has become a staple — on pop radio, in gay bars, even on television. When the duo hits the stage at the Capital Pride Festival this Sunday, June 9, no doubt Pridegoers, facing the U.S. Capitol, will be singing and shouting right along with Icona Pop, expressing the anthem's irresistible mixed message: "I don't care. I love it!"
METRO WEEKLY: I know you've been working on your album as well as plans for your first headlining tour of North America later this summer. But this weekend you'll take a break to perform at Capital Pride.
CAROLINE HJELT: Yay! It's going to be one hell of a party. We're very honored.
AINO JAWO: We're very excited.
MW: Have you performed at other Pride events?
JAWO: No we haven't done Pride events.
HJELT: We played at the White Party in Palm Springs, and then we've played at gay clubs in New York.
MW: I actually caught one of those, your performance at New York's gay club Splash during CMJ. That was a show after 2 a.m. on a Thursday, after a full day of performances at the festival.
JAWO: Oh yeah!
HJELT: Wow, we were so drunk! [Laughs.]
MW: Well, your enthusiasm for performing was certainly contagious. I remember you made out with a twinky gay boy, right there onstage during the performance.
HJELT: Yes, I did! It was so much fun! He was so gorgeous!
JAWO: That was so lovely! [Laughs.]
MW: So is that what you're expecting from Capital Pride?
JAWO: Oh yeah, totally. You will see us naked with all the gay guys.
HJELT: Yes. That's where we belong!
MW: It is true that while you're now connecting with all of America, you connected with the gay crowd first.
HJELT: Oh, yes.
JAWO: It feels like the gay crowd is almost a little bit ahead of everyone else. And then everyone else comes, I guess.
HJELT: Yeah, and they're not afraid of picking up new stuff. And I also think we make music that people like to dance to. And we've been to a lot of gay clubs, and have a lot of gay friends. And there's always good dancing going on.