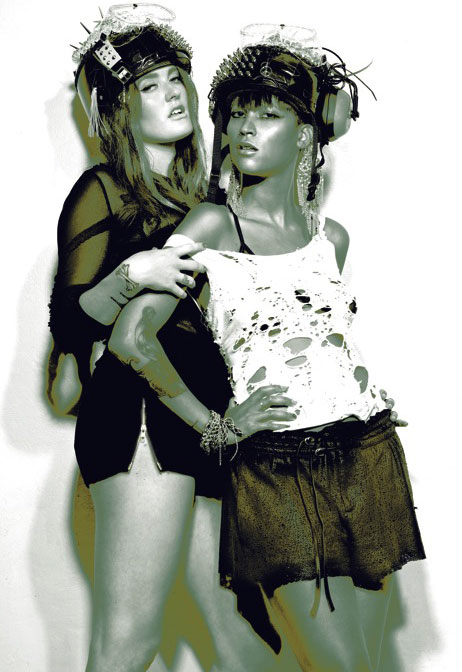 Icona Pop
(Photo by Fredrik Etoalltritone)
MW: I gather that even before you started making music, you guys would go out dancing together.
HJELT: Yeah, well, we were club kids from the beginning. We think it's kind of a romantic thing, the whole club scene. Everybody's there for the music, and everybody wants to feel, or maybe escape reality. You know, it's all about being there in the moment and just — there's something a little bit romantic about it.
MW: Before you were club kids, you were girls growing up in Stockholm. What were your childhoods like?
JAWO: I grew up in a very musical family, where everyone, except me, went to music school and stuff like that. But I've always loved music. My dad comes from Africa and my mom's from Finland. We listened to everything from classical music to rhythmic world music. And I totally fell in love with pop music of the '90s, because that's when I grew up. And then I started being in different bands. And then Icona Pop happened.
HJELT: It was kind of the same for me. I've also been in a family where we've been listening a lot to all different kinds of music, and always singing. I started in choir school pretty early, and then after that I went to another school. And I was really trying to find my way. I was trying so many different ways, and I was giving my all, but I didn't feel like people could understand what I wanted to do. I was very frustrated, and I couldn't put my finger on what it was. But then when I met Aino I was like, "Wow, this is how it's supposed to feel like when you're creating." Because it felt so natural and so good.
MW: Following up on what you said, Aino, other members of your family were more musical than you?
JAWO: Oh yeah, but I think I started kind of late. My sister and my brother, they were playing violin and trombone, and I was more watching MTV. But I've always been into music. I play guitar and piano. I started playing instruments pretty early.
HJELT: But it's kind of funny that people think that you have to [be trained]. I mean, you can find your own way of creating music. I went to music school for nine years first, and then I was studying music theory for so many years but I could never learn. But I have another way of writing. I found other ways to express [myself].
MW: Who are your influences when making music? What inspires you?
JAWO: We go through a lot of weird situations together. And the only thing we have in the end is each other. So I think both me and Caroline give each other a lot of inspiration. But also love life. You can go back to those times when someone broke your heart, or how your friends have been treated bad. So it's experiences.
MW: What about other artists? How do you feel about Robyn?
HJELT: Oh, I think she's great. She was such a pioneer when it comes to pop music in Sweden. She's really, really good.
MW: I can definitely hear an influence. Just as with a lot of Robyn's songs, your music and lyrics don't always match in mood or sensibility. The music might be a bit carefree or happy while the lyrics are more fraught or emotionally complicated.
JAWO: I think that's the same with a lot of Swedish people. We love the bittersweet feeling about it. I'm very happy that you say that with Robyn. We've been working with the same producers.
MW: What is it about Sweden and today's pop music? The influence goes as far back as ABBA of course, but especially in the past few years producers and artists from Sweden have set the pace for electronic dance music, or EDM. Is there something in the water?
HJELT: [Sings] There's something in the water!
JAWO: I don't actually know. We've been talking about this a lot. I don't know if it's because the winter is so long that people get really — they go down, under-earth, and they start to work on music.
MW: Aino you mentioned a brother and a sister. Do you both have siblings?
HJELT: I have one sister and one brother.
JAWO: And I have one sister and one brother, and then I have some family in Africa also.
MW: Where in Africa?
JAWO: West Africa. I'm gonna go and visit soon.
MW: Have you performed yet in West Africa?
JAWO: No. I would love to, but I haven't had the time to go there for like seven years, so the next [tour] rotation, I'm going to take Caroline and we're going to record our second album there. And she's going to meet my family.
MW: Your families must be happy with your success.
HJELT: I think we have the best families ever. They've always been so supportive. And even when it's been — I mean, we've had some really tough times. And it's never been a question that they think that we should do something else. It's just been pure support, and I guess they're very happy now because they see that we are happy. They've seen us very unhappy from time to time, some stuff didn't go our way. Right now I think they would like to see us a little bit more than they do, but still they know that we are happy and that we are doing what we love. We're trying to get home to visit them every time we can.
MW: Where do you make your home these days? Here in the states?
HJELT: Yeah, we are in the states. But we're traveling everywhere. I mean, my home is where Aino is, kind of.
JAWO: I am a big home! [Laughs.]
HJELT: It's really weird just doing the gypsy lifestyle. We don't really have a home. We're based in New York, and we have a lot of stuff in New York. But we don't have a home. We're just constantly traveling.
MW: Is it true that you spend most of every waking day together?
JAWO: Yeah, we do!
HJELT: Even days we're free.
JAWO: When we go back to Sweden and have a day off or something, we're like, "Hey, we should really hang out and not talk about anything that has to do with work." But then again, I don't see music as work. It's more like a passion. But it's fun. We hang out all the time. No one understands me [like Caroline does], I think that's why. You're like a big UFO.
HJELT: I think we created our own little world.