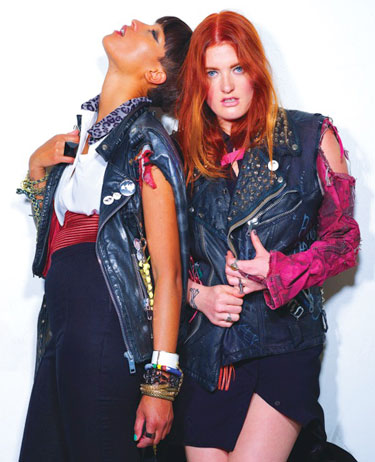 Icona Pop
(Photo by Fredrik Etoall)
MW: I understand you first met by chance at a party.
JAWO: Yeah, at Caroline's place. She was having a party and I was dragged to that party by a mutual friend. And from the first second we met, we just started to talk. And we started Icona Pop the day after.
HJELT: Yeah it was kind of just this electrical feeling. We were both kind of frustrated and down, and then when we met, we felt we had a connection and we just both threw ourselves out there and decided to try to write something together. Because that can be tricky sometimes when you meet people. But we felt instantly, we thought we had the best bond in the world.
MW: How did you come up with the name?
JAWO: That's from Caroline's mom. She was at a dinner with her Italian friends. And they were asking her, "Oh, so they're going to be the next pop icons?" And at that time we were searching for a name — we were nameless for months. They said it in Italian — icona pop. We thought that sounded so cool. Icona Pop also became kind of like a tribute to all our pop icons.
MW: What languages do you speak? Obviously English and Swedish.
JAWO: And Finnish.
HJELT: Both me and Aino are half-Finnish.
MW: I didn't know that.
JAWO: I don't think people know we're actually a Finnish band. [Laughs.]
HJELT: We're actually a Finnish band!
JAWO: Caroline's dad is from Finland and my mom is from Finland. And I went to Finnish school for six years.
MW: That's yet another reason why you two are an interesting pairing. All your similarities, it's like you were meant to be friends.
HJELT: Exactly. More and more stuff comes up just like, "Wow, a perfect match!"
MW: Though it was released last summer, "I Love It" has really taken off this year in large part, as I understand things, because of HBO's Girls. The show's characters make the song their anthem during one episode. Were you fans of that show before?
HJELT: Oh yeah, we love that show. It's such a cool show.
JAWO: It's amazing that a young woman like Lena Dunham has got a series on HBO. The show is just amazing. It's nice to see a show with a lot of normal girls — they're not too perfect.
MW: From Girls to a Glee cover — just to name two shows to have featured "I Love It" — it must be a trip to hear your song used in various media. Or even just catching it on the radio.
HJELT: Oh yeah. Yeah, it's insane. It's really, really — it's a little bit hard to take it all in sometimes.
MW: I remember falling for that song a year ago. Obviously I have no ownership of the song, yet somehow when I hear it out and about, and people react gleefully the way they always do, I feel a sense of pride and possessiveness. "Hey! That was my song first!" Of course at the same time I'm happy that it's come around and become such a big hit.
HJELT: That's how we want people to feel. You have the right to feel like that when you're with a band from the beginning. The ones who picked it up and listened to it and spread it to their friends — they're the most important ones.
MW: Your career is taking off right now, so you'll be guiding that over the next few years. But in five years' time, say, where do you see yourselves? What do you hope for?
HJELT: I picture us out on a world tour, with a huge production. And we've released a couple of albums. It's been going very well. And we have two huge, gorgeous men on our sides, supporting us.
JAWO: And then we are doing a song together with Prince. From the beginning when we started Icona Pop, Prince was a huge, huge, big thing for us. I cut my hair like him, and we took photos like his timeless photos.
HJELT: We were performing at the Billboard [Music] Awards, and he performed and just killed it. Killed it! We were 10 meters from him, and we were screaming like Justin Beiber fans [Laughs.]. Yeee!
JAWO: If we actually work with him in the studio one day it would be fun, but I think I would be just screaming.
MW: Well, I look forward to hearing them. Anything else you'd want to say about Pride, or what we can expect from the show?
HJELT: We're just so excited to come and dance with all the homosexuals, transsexuals, whatever you are. And just celebrate and have a party.
JAWO: Yeah. And we are expecting a lot of dancing, good movements. And love.
HJELT: A lot of love.
Icona Pop performs Sunday, June 9, at approximately 6:30 p.m. on the Capitol Stage in the 300 block of Pennsylvania Avenue NW. For more details, visit capitalpride.org.