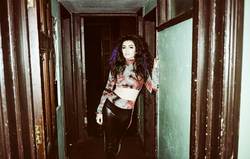 If you're looking for something to do tonight and you can't wait until this Sunday, June 9, to hear this week's Metro Weekly cover ladies Icona Pop at the Capital Pride Festival, U Street Music Hall has essentially the next best thing. British singer-songwriter Charli XCX — born Charli Aitchison — will perform at 8:30 p.m. at the subterreanean venue with the great sound system.
Name not ringing a bell? Well, the 19-year-old Charli is the lead songwriter behind Icona Pop's mega-hit "I Don't Care (I Love It)." Nothing on her noteworthy new debut album True Romance is quite as electrifying or as great as that punky-pop gem — but then how could it be? — though you'll likely take to it all the same. Charli has a husky voice and a spunky/goth style that often puts you in mind of Marina and the Diamonds. Or a less gimmicky Gwen Stefani. Or a more restrained Nicki Minaj.
And who knows, maybe if the crowd asks nicely and shows they do in fact care, Charli will perform her own version of "I Don't Care." Who wouldn't love that?
Monday, June 3. Doors at 7 p.m. U Street Music Hall, 1115A U St. NW. Tickets are $15. Call 202-588-1880 or visit ustreetmusichall.com.