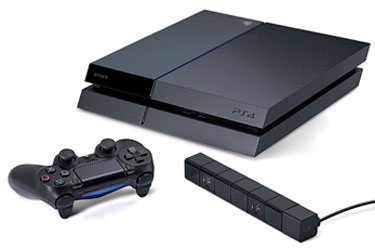 E3 2013 was big, brash and bursting with content. And, as Metro Weekly's inaugural conference, it couldn't have been better. We were on the show floor watching the presentations, playing the games and soaking in as much content as we could to bring you our five highlights of this year's E3, which was one of the most memorable in recent history. We had console reveals, game announcements and one of the biggest corporate smackdowns of any E3. It was an incredible show and it's going to be an incredible 12 months for gaming. Here's what happened, and what you have to look forward to.
Sony "won" E3
Fanboys love E3, as it gives them plenty of ammo to launch at one another. Microsoft has this hardware, Nintendo has these exclusives, your console can't do that…. Repeat ad nauseam. However, this year's press conferences left no room for error in the minds of attendees — Sony undeniably had the strongest E3 of the big three. If we strip it back to its features, it was pretty normal: a range of strong exclusives, the PS4 was finally debuted in the flesh, a renewed focus on indie developers and a commitment to ironing out the last weak spots in the PSN. However, it was categorized by two key moments, both of which saw Sony take square aim at Microsoft. Referencing Microsoft's much-derided used-games policy and the Xbox One's requirement for an Internet connection in order to work, Sony stood on stage and stated that used games could be lent, swapped and sold as the player desired, that the console didn't require daily check-ins with servers and that it wouldn't stop working if the user didn't have Internet access. Thunderous applause and cheering broke out across the stadium we were seated in. The press and fanboys alike loved the jabs at Microsoft. Then, Sony dropped its E3-winning bomb: The PS4, stuffed as it was with technology to rival – and some may say best – the Xbox One, will cost $100 less when it launches this year. Every jaw dropped, and Sony has been riding a wave of great press and adulation since.
Microsoft is the new Sony
When Sony debuted the PS3 way back in 2006, the company reasoned that the extremely high price — for the time — was justifiable, as those who wanted the console would work extra hours in order to afford one. It was a startling display of arrogance from a company who had enjoyed more than a decade at the top of the console food chain. At this year's E3, Microsoft worryingly started to display some of those traits. With the 360 doing so well for the company, outselling every other console in North America, it's easy for them to justify certain decisions by assuming that their fans will still buy the Xbox One. The decision to have the One require a daily Internet connection to sync with Microsoft's servers, or have the console stop working? A serious misstep. Already bruised from the backlash to its fee-driven used-games policy, which curtails the freedom users have over their used games, Microsoft's decision to punish those without Internet access is further salt into an open wound. The sensible reasons for DRM and piracy protection are lost among stupid PR moves such as Xbox chief Don Mattrick telling GameTrailers that Microsoft has "a product for people who aren't able to get some form of connectivity, it's called Xbox 360." True, Don, but also desperately arrogant. Microsoft has some serious PR work to do to try and smooth over the cracks left by the Xbox One's different approach to gaming, and with only a few months until release it's an uphill battle in the face of Sony's gamer-friendly attitude with the PS4.
Wii who?
Despite packing hardware that's more powerful than the Xbox 360 and PS3, the Wii U was summarily dismissed by many developers at this year's E3. Nintendo's next-gen console is already on weak footing given the power disparity when compared with the PS4 and Xbox One, with EA already confirming that it won't work with its next-gen engines, and Ubisoft discontinuing exclusive games for the console until sales improve, but the lack of power is also harming it from a multi-platform standpoint. Those gamers who chose the Wii U as their next-gen console of choice are going to be missing out on a lot of titles — and, surprisingly, on a lot of PS3 and Xbox 360-compatible titles that the Wii U is more than capable of handling. Call of Duty: Ghosts, Castlevania, Dark Souls II, Destiny, Diablo 3, Dragon Age III, The Elder Scrolls Online, FIFA Soccer 14, Final Fantasy XV, Kingdom Hearts III, Lost Planet 3, Madden NFL 25, Mad Max, Metal Gear Solid V, Mirror's Edge 2, NBA Live 14, Murdered: Soul Suspect,NHL 14, Need For Speed: Rivals, Saints Row IV, South Park: The Stick Of Truth, Thief. None of these titles, a mixture of next gen and current, have been confirmed for Wii U. That's worrying. And despite Nintendo's best efforts to improve the release of first-party titles and core franchises, without the same gaming experiences as the other consoles the Wii U is in a rather desperate situation. However, Just Dance 2014 is confirmed, so it's not all bad news.
Game On
With a new generation of consoles, games were obviously going to follow, and this year's E3 gave us plenty to get excited about. Particular highlights include Watch Dogs, which is shaping up to be one of the most ambitious of the next-gen games; Assassin's Creed IV, which continues to look better and better with each gameplay reveal; and Thief, which is drawing inspiration from the much-loved original games, but bringing a brand-new experience when it eventually launches. Indie gamers had plenty to be happy with, including Sony's renewed focus on its indie developer section of the PSN and a whole portion of its conference dedicated to showcasing upcoming games. And Microsoft, who have supported indie titles on Xbox Live for years, confirming continued support on Xbox One and previewing an updated Minecraft for its new console. PC gamers should benefit from the new, PC-based architectures of the Xbox One and PS4, with multi-platform game development hopefully removing the lengthy delays that occur when a console game is ported over to PC. Those still invested in the Xbox 360 and PS3 were given multiple assurances that both would be supported in the near future, and standout titles like Murdered: Soul Suspect and Beyond: Two Souls continue to demonstrate the gaming prowess of the now eight-year-old systems. Even Nintendo fans have Super Mario 3D World, a new Smash Bros., Zelda andPokémon to look forward to in the upcoming months. The deluge of games at this year's E3 was almost overwhelming, but it's also a good sign for gamers that developers have been reinvigorated with the arrival of new consoles — especially after last year's snooze-worthy E3.
The Surprises
Despite all of the leaks, and betting, and educated guesswork, there is still much of E3 that is a surprise to those in attendance. This year was no different, with sneaky launches, teases and tidbits of upcoming games and later announcements left dangling in front of press and industry insiders. Mirror's Edge, one of the most stylish games of the current generation, was finally given the sequel it deserved with the announcement that it's bringing its beautiful aesthetic to the next generation. Kingdom Hearts III was announced as being in development, much to the joy of those at Sony's conference, as the series has somewhat waned in recent years on the back of various remakes and offshoots that have diluted the franchise's core appeal. Nintendo was dealt a sore blow by developers as both Ubisoft and Activision failed to even mention the Wii U in their press conferences. The Crew offered a much needed refresh to the driving genre, with a multiplayer focus that looks as easy as it does fun. Tom Clancy's Division seemed to really wow the audience during its gameplay unveiling — the post-pandemic vision of a chaotic New York looked beautiful and exciting in equal measures. Sony's dramatic price point and skewering of Microsoft remained one of the biggest news stories of the show, and has seen PS4 preorders lead Xbox One orders 3-to-2 in North America. E3 locked horns with Android-based console maker Ouya, who attempted to avoid the cost of the show by staging a booth in the parking lot opposite the expo center, leading E3 organizers to park buses in front of them and call the police.
The biggest surprise, though? E3 didn't suck. For a few years now it's been a fairly average event devoid of any major announcements or truly epic games. This year changed that. And with the vision of the future of gaming firmly planted in Los Angeles, we'll be looking to next year to see if console makers and game developers can keep the momentum of this year's expo and continue to deliver the incredible games and experiences that were on show this year. E3 was a hell of a lot of fun, and we can't wait to return next year with even more coverage — and hopefully another incredible roster of games to showcase. The next generation is now, and it already looks fantastic.