Sen. Patrick Leahy rekindled the debate over inclusion of same-sex couples in immigration reform late Tuesday after filing an amendment similar to one that failed to clear the Senate Judiciary Committee last month.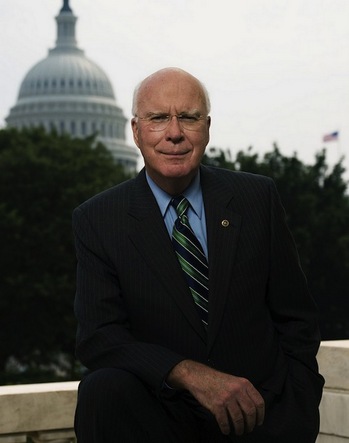 "Seeking equal protection under our laws for the LGBT community is the right thing to do," the Vermont Democrat and chairman of the Senate Judiciary Committee said in a statement. "I withheld my anti-discrimination amendment during the Senate Judiciary Committee markup. As the entire Senate turns to debate the immigration bill, the fight for equality must go on."
Under immigration law, the amendment seeks to recognize "any marriage entered into in full compliance with the laws of the State or foreign country within which such marriage was performed."
Leahy withheld his amendment after Senate Republicans threatened to derail immigration reform over the inclusion of same-sex couples. During a Senate Judiciary Committee hearing in late May, many Democrats viewed as allies of the LGBT community abandoned the amendment over fear Republicans would doom immigration reform entirely.
But while Leahy has made good on his promise to file his amendment, which would strike for immigration purposes the federal government's definition of marriage as between a man and a woman under the Defense of Marriage Act, it remains to be seen if Senate leadership will agree to bring Leahy's amendment to the floor for a vote. If it does, it is uncertain if the amendment will receive the necessary number of votes to be adopted.
President Barack Obama was a supporter of an LGBT-inclusive immigration bill, but has reiterated throughout the past several months that compromise may leave the legislation lacking provisions he would have otherwise supported. Speaking on the topic of immigration at an event at the White House Tuesday, Obama did not mention inclusion of same-sex couples directly, but said the bill will likely go through more changes during the amendment process on the Senate floor.
"Now, this bill isn't perfect. It's a compromise," Obama said. "And going forward, nobody is going to get everything that they want — not Democrats, not Republicans, not me."
[Photo: Patrick Leahy (Courtesy of the U.S. Senate)]