In a new play now running as part of the lineup at the Source Festival, a gay couple and a lesbian couple in D.C. swap spouses in order to get hitched. The marriages are "a cover of perfect heterosexual suburban married bliss," explains Linda Lombardi, director of Perfect Arrangement. In 1950s America, you see, you just couldn't be openly gay, certainly not if you worked for the government. It was the anti-communist McCarthy era, of course, as well as what Lombardi describes as the "concurrent 'Lavender Scare' of homosexuals ruining America."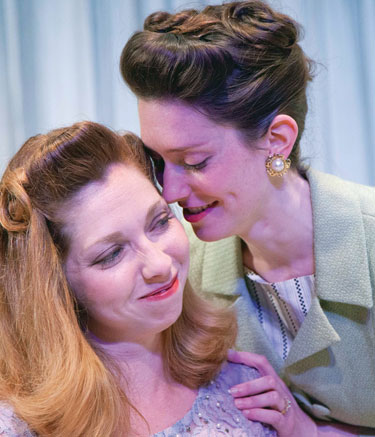 Perfect Arrangement
(Photo by C. Stanley Photography)
In the play Perfect Arrangement, one of the married lesbians and one of the gay men work together at the State Department. These closeted-at-work employees are given the task of uncovering homosexuals among their ranks, which naturally "snowballs into [them] trying to keep their jobs and trying to keep their pretend families and their real families all together." The play explores some weighty issues, particularly the consequences of secrets on individuals, families and society at large.
But for all that, it's not a drama. "It's actually a comedy with very beautiful, touching moments between [its four characters]," says Lombardi, literary manager at Arena Stage who now makes her directorial debut in D.C. after more than a decade of directing theater in Seattle. Perfect Arrangement, Lombardi notes, takes its cues from the sitcoms of the '50s era, which were full of hijinks. Topher Payne, an Atlanta-based playwright and gay columnist, wrote the play.
Perfect Arrangement is just one of three full-length plays being staged at the Source Festival, put on by CulturalDC and dubbed "Washington's source for new work." This year's festival also includes 18 10-minute plays by up-and-coming playwrights, staged in three thematic groupings; three "artistic blind dates," each featuring three diverse artists who've collaborated on original work inspired by the festival's three full-length plays; and a June 28 talent show, open to all, offering a $100 cash prize. '
Remaining performances of Perfect Arrangement are Saturday, June 22, at 8 p.m., Tuesday, June 25, at 8 p.m., and Saturday, June 29, at 1 p.m. Festival runs to June 30 at Source, 1835 14th St. NW. Tickets are $10 to $20, with other passes available.' Call 202-204-7760 or visit sourcefestival.org.