The political action committee (EVPAC) for the Commonwealth's major LGBT rights group, Equality Virginia, released endorsements Friday for the three statewide offices on the ballot in November, despite comments made by gubernatorial nominee Terry McAuliffe that he would not invest political capital in pushing for a repeal of the Marshall-Newman Amendment to Virginia's constitution, which prohibits any recognition of same-sex relationships.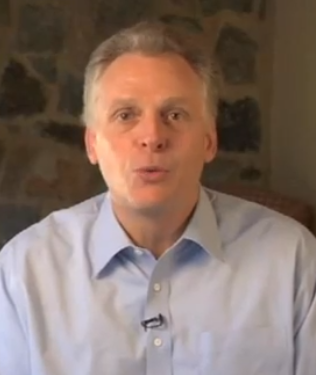 According to Politico, during a town hall-style debate in Reston with Republican nominee Ken Cuccinelli on Thursday, McAuliffe sought to contrast himself with Cuccinelli by portraying the current attorney general as an ideological warrior more concerned with pushing controversial social issues than dealing with economic concerns. Following the debate, McAuliffe told Politico that even though he supports same-sex marriage, he would not push for a reversal of the ban against those relationships, telling Politico, "It's not going to change under my term."
In response to a follow-up question from Metro Weekly, McAuliffe spokesman Josh Schwerin clarified that although McAuliffe supports civil marriage for same-sex couples, a measure to reverse the ban on same-sex relationships would have to pass the House of Delegates, which "realistically won't happen" under its current leadership. Republicans control the lower legislative chamber 68-32.
"As Terry has said consistently, his focus as governor will be on economic issues," Schwerin said in an email. "That said, Terry will follow the precedent set by Govs. Kaine and Warner and issue an executive order banning discrimination."
EVPAC spokesman Kevin Clay also defended McAuliffe's comments and the committee's decision to endorse McAuliffe for the November election.
"We feel fairly confident that, because McAuliffe expressed his personal support for marriage equality, if the General Assembly were to pass a bill to reverse the ban, he would support it," Clay said in response to McAuliffe's comments.
"Certainly, having pro-LGBT leadership helps Virginians at the state level," Clay continued. "I think it's very clear why EV's PAC would endorse Terry McAuliffe and the others with pro-LGBT records."
In its press release endorsing the Democratic slate, EVPAC said that the next four years could be a crucial turning point for LGBT people in the Commonwealth with regards to ending workplace discrimination, extending adoption rights, protecting LGBT youth and gaining marriage equality.
"Virginians have a very clear choice this November to show their support for our lesbian, gay, bisexual and transgender community," James Parrish, Equality Virginia's executive director, said in that press release. "In this election, the GOP's ticket has made their position obvious on LGBT issues and the media has brought it to the forefront of the campaign. Our Democratic candidates for statewide office each have a platform that include working towards our fundamental human rights – not against them."
In an interview with Metro Weekly, Parrish also pointed out the practical implications of McAuliffe's comments to Politico, noting that it would be unrealistic of McAuliffe to expend political capital on an issue that has very little chance of passing the Assembly given its current makeup. Parrish also noted that due to the complex legislative process required to repeal the Marshall-Newman Amendment, such a measure could not be introduced until 2015 prior to that year's legislative elections, whereupon it would have to be voted upon by a new legislature in 2016 and signed by the governor before heading to the ballot during that year's presidential election.
According to a recent Washington Post poll from May, 56 percent of Virginians believe it should be legal for same-sex couples to marry.
Equality Virginia's other endorsees, Sens. Ralph Northam (D-Norfolk, Virginia Beach, Northampton, Mathews and Accomack counties) and Mark Herring (D-Loudoun, Fairfax counties), both support marriage equality and have consistently scored 100 percent on Equality Virginia Advocates' annual legislative scorecards for their support of workplace protections and other LGBT rights. Both candidates' campaigns also told Metro Weekly that the senators support efforts to repeal Marshall-Newman.
"I cherish my marriage and my family over all else and I cannot imagine the government taking that right away from me," Northam said in a statement. "There is no excuse to discriminate against Virginians based on whom they love or to stigmatize the children of same-sex couples as unequal because their parents cannot marry. We must move beyond this divisive social agenda so Virginia can be a welcoming and inclusive place to raise a family and start a business. That is why as Lieutenant Governor, I will support the repeal of the Marshall-Newman Amendment to remove this discrimination from our laws."
Northam's general election opponent, E.W. Jackson, has a history of making anti-gay comments and is opposed to LGBT rights.
"Like the rest of the Democratic ticket, Mark Herring doesn't believe the state should decide who you can love and marry and supports marriage equality," Herring's campaign manager Kevin O'Holleran said in a statement. "He believes the Supreme Court ought to overturn the Defense of Marriage Act, and would support any efforts by the legislature to eliminate the ban on same-sex marriages as well."
O'Holleran also said that while Herring voted in favor of Marshall-Newman in 2006, he now sees the legislation was wrong and has changed his views after having conversations with family, friends and other Virginians about the issue. O'Holleran noted that Herring has released an "Equality Agenda" outlining his plan for expanding other LGBT rights if elected attorney general.
"The difference between Mark Herring and his Republican opponent Mark Obenshain couldn't be clearer," O'Holleran said. "Senator Obenshain has a record of endorsing second-class citizenship and he's wrong and outside the growing mainstream on this issue in Virginia."
Del. Scott Surovell (D-Fairfax Co.), who was the chief patron of a bill that was defeated in committee in January that would have begun the process of repealing the Marshall-Newman Amendment, said he intends to introduce legislation next session to either legitimize recognition of same-sex relationships or reverse the constitutional ban. What action he takes, he said, will depend on how broad or narrow the upcoming rulings by the U.S. Supreme Court on the Defense of Marriage Act and Proposition 8 cases are.
Surovell told Metro Weekly that, given the current makeup of the House of Delegates, a bill granting any recognition of marriage – or civil unions, which he said have even higher support in Virginia – would not pass.
"So long as Republicans control the House of Delegates, they'll probably stack the committees so that a bill wouldn't get out," Surovell said. But he also noted that there are 36 Democrats challenging incumbent Republicans or vying for open Republican-held seats in November's elections, which could change the political calculus if those Democrats are able to win.
While the Democrats running for statewide office and for the House of Delegates are largely focusing on economic issues, Surovell said he has not received any pressure to stop his plan of introducing legislation to recognize same-sex relationships.
"I'm not getting pressure from any Democrats [to stop talking about it]," Surovell told Metro Weekly. "If anything, I'm getting the opposite. Right now, my course of action is: cross your fingers."
[Photo: Terry McAuliffe (courtesy of McAuliffe for Governor)]