This Monday, June 10, at Harman Hall, comic actress Rachel Dratch will read from celebrity autobiographies — just not her own.
"Actually, when I was writing it," Dratch says, "if I ever could kind of hear it being read at the show, being mocked, I'd change it."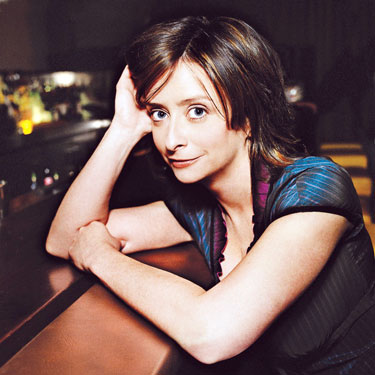 Rachel Dratch, SNL
(Photo by courtesy of the Shakespeare Theatre Company)
The show is Celebrity Autobiography, in which actors read passages verbatim from books written by celebrities. Dratch, best known for her work in sketch comedy, including a long stint last decade on Saturday Night Live, has performed regularly in the hit off-Broadway comedy show, created by Eugene Pack in 1998.
The experience helped guide Dratch's own 2012 memoir, Girl Walks Into A Bar: Comedy Calamities, Dating Disasters and a Midlife Miracle. "[The show] is a good gauge of what bad writing is," she says. "[Featured memoirs] are all written in earnest. We don't read books that were attempting to be funny, but they have either become funny over time, or they just were funny — only the author didn't know it." Each show features a different crop of actors and a different selection of passages. Mario Cantone, Lainie Kazan, Carla Hall, Steve Schirripa, Dayle Reyfel and Pack will accompany Dratch in a special one-night-only D.C. offshoot of the show, presented by the Shakespeare Theatre Company. '
Later this summer, Dratch, who has been mostly focused lately on parenting her 2-year-old son, will tackle Shakespeare in a new musical version of Love's Labour's Lost by Michael Friedman and Alex Timbers of Bloody Bloody Andrew Jackson fame. It will be staged in New York's Central Park as part of the Public Theater's popular Shakespeare in the Park series. "I'm playing — I don't even know how you say it yet — Holofernes, a stuffy professor," she laughs.
But before that, Dratch riffs on the output from contemporary celebrities, be it the poetry of Suzanne Somers, the cooking advice of Gwyneth Paltrow, or anything from Madonna's literary oeuvre.
As the show's subtitle puts it, "We Couldn't Make This Stuff Up."
Celebrity Autobiography is Monday, June 10, at 8 p.m. Sidney Harman Hall, Harman Center for the Arts, 610 F St. NW. Tickets are $50 to $65. Call 202-547-1122 or visit shakespearetheatre.org.