"That's pretty much what we do, a lot of rock operas and rock musicals, anything with a little punch to it," says Melissa Baughman of Landless Theatre Company. But Richard Campbell's Frankenstein, the quirky local theater company's latest production, is slightly different still — and a lot punchier.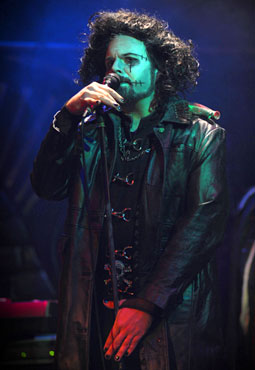 Frankenstein
"It's a 'prog-metal opera,' which is pretty specific," Baughman, the show's director, laughs. While this sub-genre, progressive metal, is not widely known, audiences might recognize the band Tool as possibly its best-known practitioner. "Prog-metal is actually a very complex, a very precise, almost classically based metal. It's really intricate [with] emotional highs and lows. It's not just, 'Let me rock your face off.' It's definitely not heavy all the time."
Landless Theatre is the first company in the world to stage this adaptation of Mary Shelley's classic novel by
young British prog-metal composer Richard Campbell. Baughman says her husband, Landless Theatre's head Andrew Lloyd Baughman, originally landed on Campbell's work through a search of "rock opera" in Spotify.
For this production Landless put together a five-piece rock band to support a cast of four main performers, including two who front Maryland-based metal bands: Irene Jericho of Cassandra Syndrome and Robert Bradley of Aries. Greg Bowen, as the creature, and Andrew Baughman as his creator round out the cast. The production even includes a "crew" of two puppeteers. Jared Davis, a resident artist with Landless, handled set design.
"It's a really experimental piece when you get right down to it," says Melissa Baughman, the main show director for a company known for its out-of-the-ordinary productions. And yet this one, she adds, "is very different from any show I've directed. I've directed rock operas and rock musicals, but this one is visually stimulating. It's a very different theater experience." '
Richard Campbell's Frankenstein runs weekends to June 30 at GALA Theatre at Tivoli Square, 3333 14th St. NW. Tickets are $16 to $24. Call 202-234-7174 or visit galatheatre.org or landlesstheatre.org.