When Pascal Tessier, 16, steps out onto the field of Nationals Park Tuesday, June 25, to accept Team DC's Spirit Award, all eyes will be on the young gay activist who has worked to bring equality to the Boy Scouts of America. And that's exactly the point, says Team DC Executive Director Brent Minor.
"You're on the 'Jumbotron,' full name and affiliation," Minor points out. "If we can put up there 'Scouts for Equality,' it's great. The visibility of this is very high. You can't get bigger than the 'Jumbotron' as the stadium is filling up with people."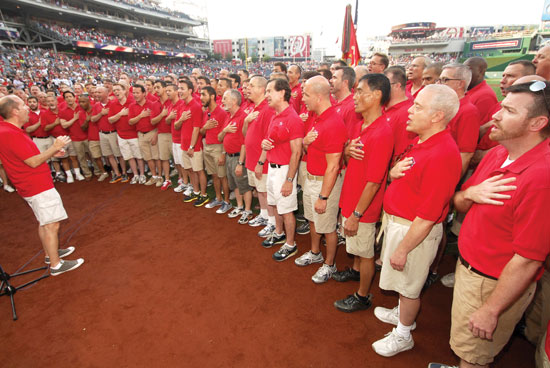 Night Out at Nationals: GMCW
(Photo by Ward Morrison)
But Tessier's receiving the Spirit Award isn't the only way Team DC – the umbrella organization for local LGBT sports clubs, with a goal of encouraging LGBT participation in sports and countering any associated discrimination – hopes to raise visibility. Team DC is brining out four more heavy hitters.
First up, the Gay Men's Chorus of Washington, D.C., will continue the chorus's standing Night Out at the Nationals tradition of singing the national anthem.
"When you hear the Gay Men's Chorus of Washington sing the national anthem," Minor shares, "you think, 'I'm so proud to be an American. I'm so proud to be gay.'"
Then there's Gautam Raghavan, LGBT liaison in the White House Office of Public Engagement, who will be filling an arguably appropriate, somewhat bureaucratic role of delivering the lineup.
"You walk out to the managers with the official lineup card," explains Minor. "That is the official card that must start the game. Baseball is nothing if not rules."
Rules aside, Minor says Raghavan's role, too, raises awareness in a unique way as the Nationals face the Arizona Diamondbacks.
"You're in the dugout with the players," he says. "You meet the umpires, the manger of the other team. I like that the visit goes right to the top of the team."
A local gay athlete, Alan Gendreau, who made a name for himself as a Middle Tennessee State University placekicker and who has aspirations of joining the NFL, will get a taste of professional sports when he throws the ceremonial first pitch. Gendreau may be the particular pride of Team DC come June 25, as he's player with the affiliated D.C. Gay Flag Football League, says Minor.
But Team DC's possibly strongest hitter is a very recognizable face in D.C., as well as nationwide among LGBT Americans. Sen. Tammy Baldwin (D-Wis.), the nation's first and only out senator, has the all-star job of getting the game underway with her shout of, "Play ball!"
This team of four, plus the chorus, Minor says, is an unbeatable group for this 9th Night Out, showing different facets of the LGBT community in the most all-American of venues.
"We don't want to be in your face, but it's important that they know it's gay night," Minor says of all those sports fans beyond the Team DC contingents. "And the response, quite frankly, has been great. The Nationals have never received any negative comments that I know of."
While raising awareness may be Team DC's primary Night Out goal, there may easily be as much revelry as recognition. Team DC throws a heck of a pre-game party, with Nationals Park gates opening at 4:30 p.m., a DJ spinning for the sporty set, and $5 beer specials in the Night Out section until 6 p.m. With Team DC ticket sales already beyond 3,000, there's bound to be a festive crowd. Minor advises that those still needing tickets should buy them at Nellie's Sports Bar, 900 U St. NW, a sponsor of the Night Out at the Nationals, along with Metro Weekly. Some $16 tickets may be available, and there's no service charge when buying tickets at Nellie's. Tickets are also available online for $20 and $25 by visiting nationals.com/nightout.
For more information about Team DC and other upcoming Night Out games, visit teamdc.org.