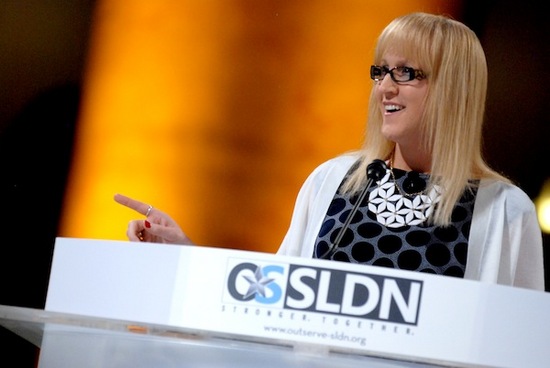 The head of the nation's largest LGBT military organization was asked to resign Saturday following a vote by the board of directors that led several staff and board members to resign in protest.
Allyson Robinson, who took the reins as OutServe-SLDN's executive director in October, making her the first transgender person to head a non-trans-specific national LGBT organization, would not comment on the board's vote.
"It would be inappropriate for me to comment at this time," she told Metro Weekly Sunday. It is not yet clear if Robinson has tendered her resignation, nor how long she will stay on as the organization's executive director.
In an email first obtained and reported by The Bilerico Project, OutServe-SLDN's director of external engagement, Zeke Stokes, wrote that the board has "made decisions that have compromised the trust I had placed in it heretofore."
Dear friends:

My entire professional life, I have maintained a motto: "Work Hard, Be Nice."

So I will not betray that now. Instead, I will say that it has been the great honor of my career to serve our nation's brave LGBT service members, veterans and their families. I could never have imagined when I accepted this position, that people like Charlie Morgan would enter my life and make such a profound impact on me.

Today, the Board of Directors made decisions that have compromised the trust I had placed in it heretofore. They have chosen a direction that is inconsistent with what I believe is necessary to secure a successful future for the organization. In doing so, they have for the foreseeable future sacrificed the viability of the mission.

For that reason, I can no longer represent OutServe-SLDN to the public or to our members and donors. Thus, effective today, I have resigned as a member of the staff and wish to no longer be affiliated with the organization.

For the rest of my life, I will be forever grateful for the opportunity to serve our nation's LGBT military community; however, the actions of this board are not worthy of their service and sacrifice. I choose to honor them with my resignation effective today.

Zeke
Reached by Metro Weekly, Stokes said it "wouldn't be appropriate for me to say anything at this time."
In a public post on her Facebook page, board member Sue Fulton confirmed she was one of the members to resign.
"I am upset that this got out, but more upset that it happened. I was one of those who resigned from the Board. Sad, sad days," Fulton wrote. "I will ALWAYS, ALWAYS support the lgbt troops. Mission over politics."
According to BuzzFeed, both Matthew Phelps and Beth Schissel also resigned from the board, as did staff members Gary Espinas, director of chapter and member services, and David McKean, the organization's legal director. McKean told BuzzFeed that he would stay on until he can "determine how to resolve matters related to client representation in accordance with legal ethics rules and requirements." The board has 18 members, including Robinson herself.
It remains unclear what prompted the board's vote to oust Robinson, but reports indicate it was not unanimous.
The naming of Robinson as the head of the recently combined OutServe and Servicemembers Legal Defense Network in October excited many advocates and signaled a shifting focus for the organization in a post-"Don't Ask, Don't Tell" world.
During her first "State of LGBT Military Service Address" at the organization's national dinner in March, the Army veteran and 1994 graduate of the United States Military Academy at West Point stressed that they could not grow complacent.
"Now, that historic victory is just that — history," Robinson said of the repeal of DADT. "But the fight for full LGBT equality in our armed forces is far from over. In fact, it's just getting started."
This story is developing. Check back for more updates.
[Photo: Allyson Robinson (Credit: Ward Morrison/Metro Weekly)]