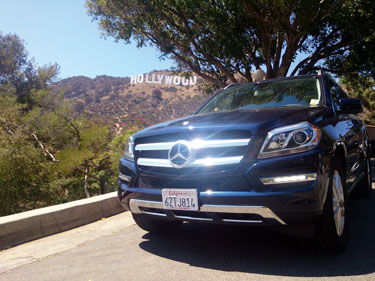 There are two requirements for navigating Los Angeles: a car and infinite reserves of patience for the city's notorious traffic. Freeways are turned into parking lots during rush hour, as the whole city struggles to filter through the finite number of avenues and roads, and tackling the streets of L.A. without any experience is no mean feat. Thankfully, I came prepared with one of the most impressive cars I've ever driven, the Mercedes-Benz GL450.
First impressions count in L.A., and when you first see the GL in the metal it makes for a vast impression. Mercedes's largest SUV, it stretches over 200 inches, sits at 73-inches high and is 84-inches wide. It's a big car. Compare it with the ML-Class SUV, and the difference in size is noticeable, with the GL's boxy rear-end doing nothing to disguise the car's considerable bulk. That bulk weighs in at 5,400 pounds unloaded, a figure that can rise dramatically if you spend too long on the options list, but also enables the GL to tow up to 7,500 pounds. It carries its weight well, however, with a 2012 refresh bringing its looks in line with Mercedes's new, sportier image, making the GL a handsome car. While it could never be described as subtle, it's certainly a restrained approach to SUV styling, with a sharp nose and an unfussy rear helping it feel upmarket without the need to shout about it. It doesn't have the status of the Range Rover, or the drama of Audi's Q7, but there's no doubting that the Mercedes is an expensive car when it drives past, and it's a marked improvement on its slightly doughy predecessor. The Lunar Blue of our model proved a nice contrast to the California sun, and ensured the GL looked as good driving between pockets of traffic as it did pulling up outside an exclusive restaurant.
Move inside, and Mercedes's renewed efforts in improving interior quality make themselves immediately apparent. With seating for seven inside its roomy cabin, the GL has plenty of space — though the rear seats, which raise and lower automatically, should be left to children as adults will struggle with the limited legroom on anything more than short journeys. Climb into the GL's front seat — and it is something of a climb given the car's height, though the self-leveling air suspension can be lowered to make access easier — and prepare for a comfortable ride, as the GL's automatic, heated front seats are a great place to while away the hours. Our car had Mercedes's MB-Tex faux-leather wrapped around its chairs, which, while lacking the smell of real leather, proved a hard-wearing, soft and stylish alternative that will still look new long after leather has begun to deteriorate. Real leather adorns the steering wheel, which feels suitably thick in the hand, and offers a plethora of buttons to aid in navigating the GL's COMAND infotainment system. That latter option is testament to Mercedes's refinement of the control scheme first seen in BMW's 5-series. A 7-inch screen is mated to a controller between the front seats, which offers quick and easy access to the myriad menus and options. The optional Premium 1 package, costing a rather steep $3,500, provides navigation, SiriusXM, enhanced voice control, and traffic and weather updates as well as a power-adjustable steering wheel, 10-way adjustable seats with memory, power-folding mirrors, multicolor ambient lighting and illuminated Mercedes-Benz badges in the door sills — a very nice touch. If you're considering the GL, make sure to get this package, as the skill of the navigation system can't be overstated. In L.A.'s renowned traffic jams, having live updates, automatic rerouting and the layout of every intersection and highway split available on-screen proved invaluable. Enhancing this is the second screen placed between the dials behind the steering wheel, which offers bite-sized slices of the information displayed on the main screen, as well as trip information and other data — and allows the passenger to fiddle with the main screen without the driver losing view of the current navigation route, for instance.
Eventually, though, you will grind to a halt somewhere in L.A. – Hollywood proved a particularly mean spot for traffic jams. Here, the GL continues to offer a luxurious place to spend time. Turn up the excellent standard speakers, which can be enhanced further with a Harman/Kardon LOGIC7 surround sound system as part of the Premium 2 package — an improvement that adds $5,850 to the cost of your GL — set the capable, dual-zone climate control to auto and watch the world slowly drift past. It's a calm, quiet cabin, with the standard sunroof bathing you in light — though an optional panoramic roof is available for $1,090. At speed, it maintains composure, with only the worst of L.A.'s battle-worn streets causing tire rumble, and wind noise never intruding to a noticeable extent. Indeed, for such a large, bluff vehicle, the GL is remarkably silent at speed.
It matches this with a refined driving experience. Smooth, composed, capable — the GL's air suspension keeps it level and calm, dispensing scarred surfaces with a firm suppleness. The 4.6L biturbo V8 is more than powerful enough to cope with the GL's weight, offering wide, usable power at every speed. It's hampered by a somewhat delayed power delivery, with a squeeze of the throttle causing a slight hesitance before the seven-speed automatic shifts down and the car roars forward. It's not enough that it hinders overtaking, but sufficient that it can catch you off guard initially. The soft response of the throttle adds to this, offering limited acceleration up to a point before delivering its power. When I first tried overtaking, I squeezed the throttle, got nothing, squeezed further and, after the auto box realized what I wanted, was thrown back in the seat as the GL jumped forward. Refined it isn't, but it's also far more shove than a vehicle this size would normally deliver — and great fun to experience.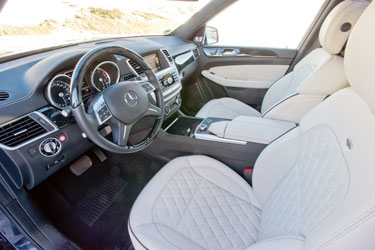 Similarly, the way the GL corners defies its mass — taking it into the Hollywood Hills led to some spirited cornering, with the GL again remaining flat and composed as I threw it around the tight bends. The only drawback is the steering, which is incredibly light. It offers little feedback at high speeds or while cornering, though it's not intended to be a sports car, but it redeems itself in the city as the GL is remarkably maneuverable for a vehicle of its size. Parking is particularly easy, especially when combined with the GL's rear-view camera, which offers a floating preview of where the car will go, and the myriad of proximity sensors dotted around the car. The camera is a necessity, though, as visibility from the GL isn't as great as you might expect — the driver has a compacted view out of the steeply raked windscreen, and thick pillars and a small rear screen further restrict all-around sight.
Another bugbear is fuel economy. Stick a V8 in a heavy SUV and it'd be silly to expect anything other than poor economy. The GL isn't the worst by any stretch, but Mercedes's estimate of 14mpg in the city feels optimistic, particularly in a city like L.A. I struggled to get the mpg into the teens, and in our five days with the car, which included city driving, the aforementioned trip into the hills, and a round-trip from West Hollywood to Anaheim, the GL drained its 26 gallon fuel tank. If you're considering running the GL in a city, it may be worth considering the GL350 diesel model, which offers less power but greater torque and much better fuel economy.
One last thing, the instrument-brightness adjustment. Mercedes has, for unknown reasons, ignored the modern, restrained styling of the rest of the dash and stuck a small, ugly, harsh adjuster behind the steering wheel. It's so small it's virtually unnoticeable, but it seems so out of place in the GL's cabin that I have to wonder if Mercedes forgot to veto the guy who suggested it.
Starting just shy of $64,000 before tax, the GL is an expensive car. However, that figure can rapidly increase should you plunder the options list. Fancy leather seats? That'll be $1,620. A rear-seat entertainment system? $1,970. The chrome hood fins that looked so good on our car? $220. An iPad dock? As much as the iPad at $400. In the mood for a sportier style? The Appearance Package costs $1,340. Parking assist comes in at $1,290. The optional Off-Road package to enhance versatility? Be prepared to pay $2,850. Costs on the GL can spiral quickly if you're not careful.
Ultimately, though, despite a few flaws, the GL is an excellent car. As luxurious as an S-Class, spacious as a minivan, and sure-footed in every weather condition, it offers a blend of abilities that few others can attest to. Mixed into that is its and the quality that the Mercedes-Benz badge on the front assures you. Driving through image-conscious L.A., the GL was a great way to be a part of the Hollywood elite, while also being elevated and isolated from it. It was as at home at In-N-Out Burger as it was rubbing shoulders with Ferraris and Rolls-Royces at restaurant valets. Fuel economy and some driving quirks aside,
Special note must be given to Hertz, who provided our GL while we were in Los Angeles. It's at the top of the firm's Prestige car selection, which offers an unparalleled range of luxury sedans, convertibles and SUVs to rent. If you're planning a vacation, we highly recommend either the Premium or Adrenaline range — the latter granting access to a drool-worthy roster of muscle and sports cars. They help elevate the experience beyond standard rental-car fare, and are very much worth the upgrade.